As a part of our Paris Journey we have a number of short trips planned from Paris to other countries in Europe. This month we travelled to Hungary where we stayed for 2 days in Budapest.
We found Budapest to be an amazing city and I think that 2 full days is more than enough to enjoy what the city has to offer. Even though Hungary is a part of Europe they do not use the Euro as a primary form of currency. We found that entertainment, food and especially the alcohol was very cheap compared to Paris prices.
 From Paris to Budapest
We started our trip from Paris Charles de Gaulle Airport in the late afternoon of the 30th of April. Everything went smooth at the airport and we arrived in Budapest with just under two hour of flight time. The trip was perfect we were able to score the exit seats and soak up the extra leg room. We both fell asleep just after take-off and woke up as we were landing.
With a smooth transition into the country and no customs or passport checking required we headed to find our previously booked mini bus transfer service. Unfortunately this was probably the only thing that went wrong for us on the trip and it really got us in a bit of a negative mood to start the vacation.
We thought that it would be as simple as getting on a group shuttle and waiting our turn to be dropped off. Instead we were given a number and told to stare at the TV screen shown below until our number receives a green light. After waiting 50 minutes I complained and the rude attendant told me to be patient. Long story short, we left the airport after an hour and ten minutes of waiting and then we were unlucky enough to be the last ones dropped off at our hotel.

Best Western Hotel Ambra
With that negative experience behind us we checked into the Best Western Ambra hotel and started getting ready for a buffet dinner boat cruse which we booked on arrival at the hotel. Our experience of the hotel was amazing and couldn't have asked for more. The hotel was a great price, included an adequate breakfast, the rooms were clean, the location was close to everything and the staff were very helpful and nice. When we arrived I flooded the concierge/reception with questions and he showed us where it all was on a large tourist map as well as booked reservations and transport all with a smile.
We left the hotel on route to the Danube River where we would venture on a night time dinner cruise. Immediately once leaving the hotel we were amazed at the number of really nice bars and restaurants that were everywhere. The atmosphere felt safe, clean and unlike Paris it felt okay for people to smile in the street without people thinking you're a weirdo.
Danube River Buffet Dinner Cruise
After retrieving our tickets we boarded the Dinner cruise boat and were sat at a large round table with two other couples and a single guy. There are some cruise options where you can have a private table but the price is much higher. Our previous negativity of the airport minibus had all but gone once we sat and listened to the live entertainment while drinking some fairly tasty Champaign. The entertainment was perfect. They had two violinists and a cellist which when combined with the mood lighting and candles really set a romantic tone for the night.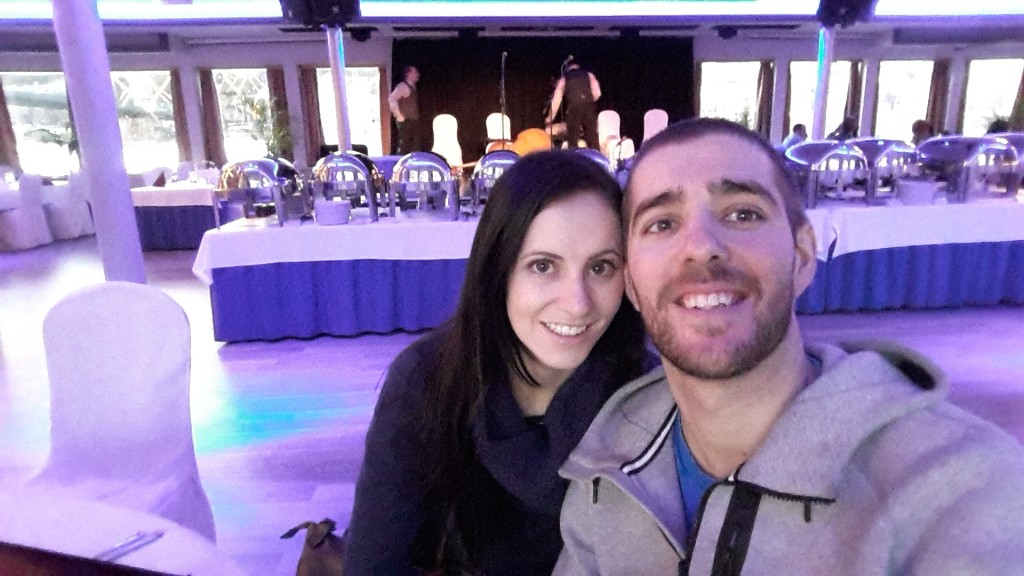 It was probably one of the highlights of the tip if not the best activity we partook. The food was buffet style and everyone pretty much went up at once but there was plenty of food and once a tray was emptied a new one came. The view was stunning with the ability to see all the sights through large glass windows or take your drink up on to the deck and watch it from there. Most of the main monuments that are viewable from the Danube River are lit up like Christmas trees. As you can see in the pictures below the view was stunning. After some great food, entertainment and drinks we called it a night and headed back to our hotel to get some rest for our free walking tour in the morning.

Budapest – Castle Hill Free Walking tour
In the morning we participated in our first free walking tour. Although it is specified as a free walking tour there is an expectation to give a nice tip if you enjoyed yourself and we were more than happy with what our guide offered.

There are a few free walking tours available in Budapest however we chose the (trip to Budapest walking tours). The tour consists of a 3 hour trip around most of the main monuments and areas in Budapest. Some of which include the Danube Promenade, Municipal Concert Hall, Gresham Palace, Academy of Hungarian Sciences, St.Stephen's Basilica, Chain Bridge, Castle District and more.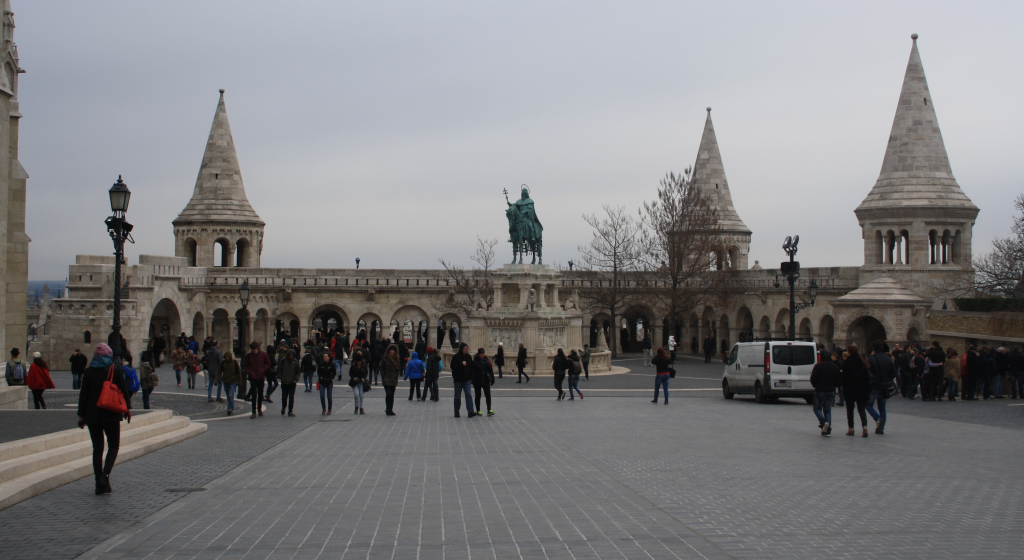 It was a great way to learn about most of the important parts about Hungary and Budapest without having to sort through a Wikipedia or Budapest history website. The tour was completed at the top of the Castle district in front of the Fisherman Bastion where we took ten minute public bus back to the centre of town.
Hotdog Lunch
For those of you who may have read some previous posts or restaurant reviews, I have been trying to seek out a good American style hotdog in Paris with no luck so far. My cravings were definitely subdued when we found a great hotdog shop for lunch on the way back to our hotel. They had a number of different styles however I went with the New Yorker and I was not disappointed. They had soft buns, normal sausages and laced with all the fixin's.
Traditional Turkish Thermal Baths (SZECHENYI BATHS)
For the afternoon we had planned a visit to the Szechenyi Turkish baths. It is a widely popular tourist activity when you visit Budapest due to it's long historical significance since the Ottoman Empire took over the country centuries ago. The entire area of Budapest has a vast amount of underground thermal springs which many believe gives the bathes therapeutic properties.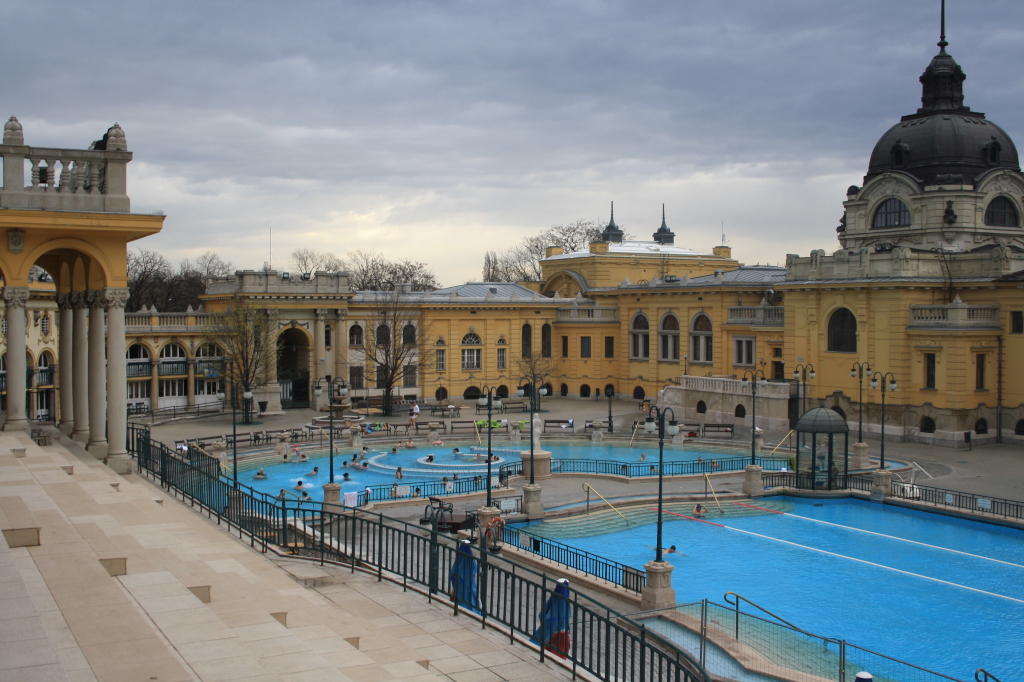 There are a number of Turkish Baths to choose from however they are not all mixed genders. The Szechenyi baths is the most popularly vistited baths in the city and it allows men, women and children.
We were glade to experience a traditional Turkish bath experience but it couldn't help but to feel like a large group of tourists jumping into a hot spa bath together. The water was a nice and hot 37 degrees while the temperature outside the bath was about 6 degrees so getting in and out was a bit of a shock to the system. When entering you have the option to either choose a locker or a cabin to store your clothes. We recommend getting a cabin as it gives you a little privacy to get changed and if you have a lot of stuff like we did then there is plenty of room to store it while you go for a swim.
Shoes On The Danube Banks
After pruning up at the baths for about an hour and a half we jumped back on the metro and headed back to the banks of the Danube River. We became intrigued of a sculpture conceived by movie director Can Togay called the Shoes On The Danube Banks.
The monument is a remembrance piece to signify the Jewish people that were killed by militants during World War II. Women, men and children were lined up along the banks of the Danube and executed so that their bodies would be carried away downstream. The symbolism of the shoes that were left behind creates a very vivid vision and memorial.
Cocktails and Shots
By now it was late afternoon and we decided to slowly walk back to our hotel and stop at a bar or two for some drinks and dinner. We found a quiet bar which had great music, lighting and cheap drinks. After a day of walking and hanging out in hot bath it was a great change of scenery to just sit down, relax, enjoy each other company and get a bit tipsy.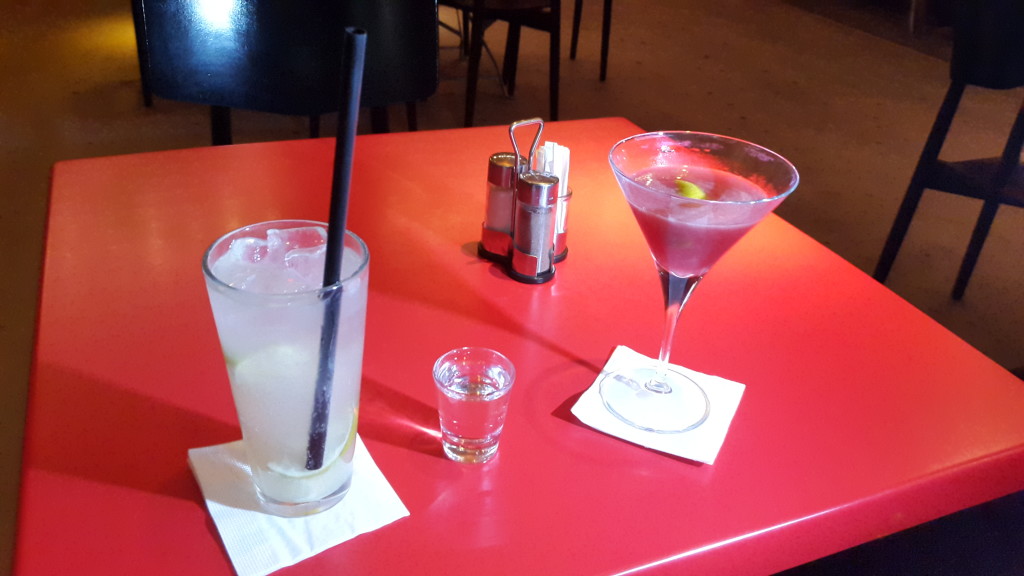 We ordered two cocktails and a shot of the traditional spirit of Hungary called palinka. The contrails were nice however the palinka shot was rough. It was 55% strength alcohol and supposed to taste like peach however all I could taste was what tasted like mentholated spirits with an extreme burning sensation. All three drinks cost us around twelve Euros which is a great price when compared with Paris prices.
Dinner Spiller Café
After a few drinks we went on the prowl for a good place to have dinner. We found a quirky little bar which seemed to be based around a 1930's or 40's boxer called spiller. The food was really nice and well presented as you can see in the photos. We really liked the atmosphere of this restaurant bar hybrid. I would 100% recommend it for a cheap good quality meal with friendly staff. After our meal we slowly walked the street back to our hotel where we ended the night full and fulfilled.
Budapest Great Market Hall
The Great Market Hall in Budapest is not a bad place to spend an hour browsing for souvenirs. The ground level of the Markets is mainly just meats, fruit and bakeries. The second level is where all of the souvenirs and takeaway food is found.

You can find every type of babushka doll available in this place and you can even buy a can of Budapest air to take home. Upstairs is also a great place to try the traditional Hungarian food of Langos. It basically just tasted like a large round deep-fried donuts with toppings of your choice.
Mini Bus Hotel to Airport Transfer
So even though the service was horrible on the initial minibus ride to the hotel I am pleased to say that it was a good trip back to the airport. The mini bus shuttle was on time and they had already filled the van with other customers so we headed straight to the airports.
Final Thoughts
We had a great time and thought that the town of Budapest was really nice. Everything was cheap, the people were friendly, the sights were amazing, there was no lack of great places to eat and there is a huge amount of history in the town stretching back to the Mongolian Empire. Two full days in Budapest was the perfect amount of time and I would suggest no more than three days otherwise you might find yourself wondering what else there is to do. We recommend it to people who love to party, love to see the sights, history lovers and foodies. There is however not a lot to do for adolescents and toddlers.
Along the way why not try out a number of different Hungarian drinks and dishes. We were able to try seven different kinds. Our experiments were strudel, kurtoskalacs, langos,  goulash, stuffed cabbage, palinka and another which we are unsure of its name.
Keep an eye out for all the different bronzed statues scattered around the place. Not sure exactly what they are about but we thought they were cool.