For Megan's birthday we decided to indulge in some thick, heavy, American style breakfast. We hopped on our scooter and headed across town to the café and restaurant packed district of "Le Marais". It was here where we had herd good things about a restaurant called "Breakfast in America".
Breakfast in America is located very close to the famous Paris Street of Rue du Rivoli and is only a stone throw away from Metro Saint Paul. The restaurants official address is 4 Rue Malher and is very easy access via public transport.
You can also find another Breakfast in America restaurant located towards Jardin du Luxembourg in the 5th arrondissement which we have not visited yet.
The Theme of the restaurant is based around a 1970 milk bar or dinner. I thought that the décor and feel of the restaurant was fairly genuine but could have used a bit more retro memorabilia. Due to its recent popularity this particular Breakfast In America has recently expanded into two separate restaurants side by side.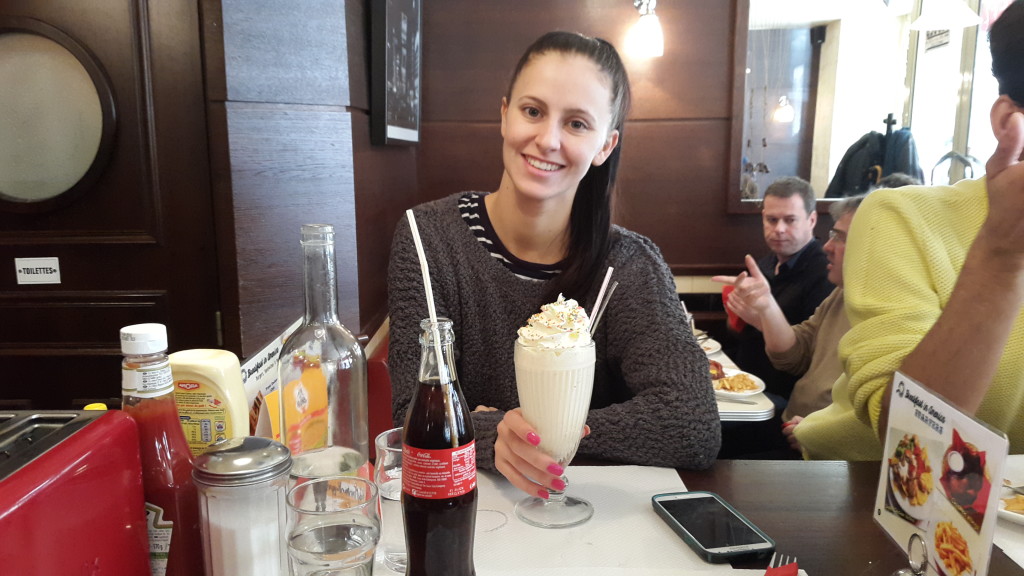 When we visited the restaurant it was absolutely packed to the brim, however this could have been due to the fact that we attended the restaurant at lunch time when many of the French working force were taking their lunch break.
We would have preferred to sit in a booth however due to a lack of seating we were ushered to a high bench table which is shared with other customers. I understand that when you eat at cafes and restaurants in Paris you often sit very close to other customers with very little personal space between your neighboring customers, however I thought it was breakfast in America not breakfast in France.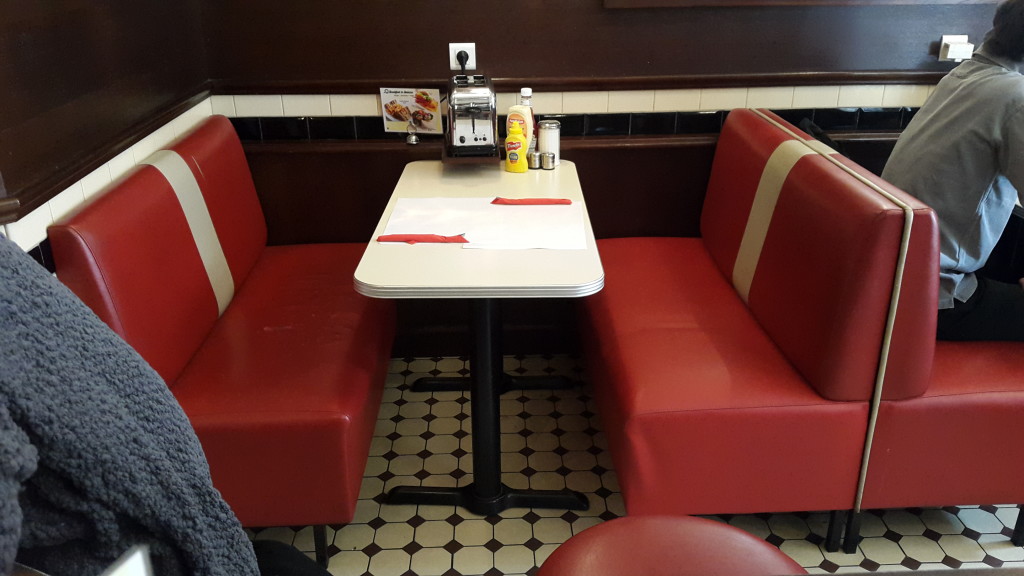 The food was honestly great and exactly what we were hoping for when we chose it for Megan's birthday breakfast. Megan and I decided to order two very different meals and share them as there was too many options which we wanted to try on the menu. It was a good thing we chose to do this, because by the time we left we were unable to finish both plates.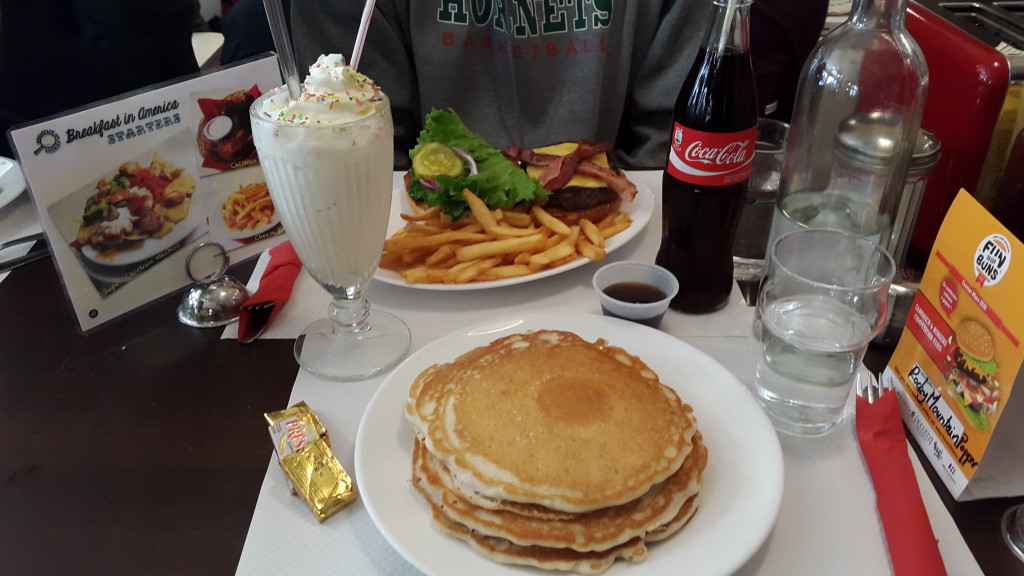 For starters we ordered a coke and vanilla milk shake . The milk shake was very tasty, loads of cream on top and just the right thickness to drink.
For our first meal meal we ordered a bacon cheeseburger without tomato and a side of fries. One of Megan's favourite foods is French fries and she thought they were very good. The main thing is that they were hot, had a nice crunch to them and were not to oily or salty. The bacon cheeseburger not only tasted great it was also cooked correctly. When we asked for well-done meat we got well done meat, all too often when we ask for something well done in Paris it is delivered to the table still bloody.
Last but not least the three layered banana pancakes drizzled in maple syrup. After eating our fair share of crepes in Paris it was a good change to indulge in an amazing stack of pancakes. They were probably the best pancakes I can ever remember eating. They were soft, fluffy, juicy and loads of banana flavour. I would recommend trying them if you choose to eat at the Breakfast in America Paris.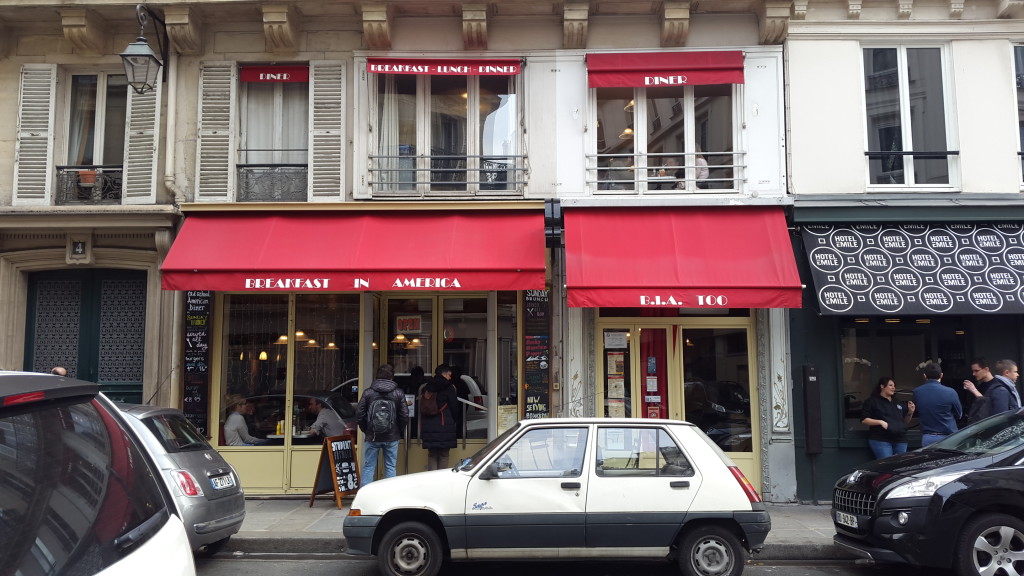 So, for our Breakfast in America restaurant review we thought that the food was great, the customer service and atmosphere was not amazing however it was not terrible either which is why I only gave it 4/5 Stars.
What I enjoyed the most is knowing that my lovely wife enjoyed her birthday breakfast. Stay tuned for Megan's Belated Birthday Sunday brunch review at the famous Kong Restaurant.