Recently Megan and I heard good things about a Cafe run by Gregory Marchand in the 2nd arrondissement. Gregory Marchand was given the nickname "Frenchie" while in the Kitchen of Jamie Oliver's Fifteen in London stuck.
The restaurant is located in a narrow cobble stone street of rue du Nil in the second district. Before the influx of Gregory Marchand the street used to be inhabited by the textile industry. Gregory's presence in the street has added a more stylish and hip feeling. Not only has he infused the street with the Frenchie to Go Café but you will also find the Frenchie Wine Bar and The Frenchie Restaurant.
For this Post we will only review the Frenchie to Go Café as we have not ventured to the other two yet.
We originally planned to go to visit Frenchie to Go on my birthday however as I was sick all day I felt that my taste buds would not do the food justice and I was not sure how much I could actually consume. So a few days later we went for a belated birthday.
I really liked the narrow cobble stone street it was located on. Straight away it creates an emotional reaction of a stereotypical French feel such as Montmartre or Rue Mouffetard but without all the hustle and bustle.
True to its name you may need to take your food to go, however we were lucky and landed one of the few seats inside the Café. The atmosphere is pleasant with small yet authentic feel and a view of everything that is going on in the kitchen.
As we sat at a raised bench table with bar stools our food was brought to our table within minutes. The staff member serving us spoke excellent English and was very polite, which is not something we have come to expect from café staff in Paris.
Megan ordered an organic apple juice and a bacon and egg muffin. I ordered a hot dog with mustard and relish with a homemade ginger beer.
Megan really enjoyed her meal, the egg was cooked well but was undercooked just enough to burst open when the muffin was squeezed. The bacon was not too crunchy but the only downside is that it came with bbq and tomato sauce. For most this is not a problem but Megan is not one for sauces however it says a lot that she still really enjoyed it. Maybe we misread the menu however if you don't wish to have sauce just make sure you tell them.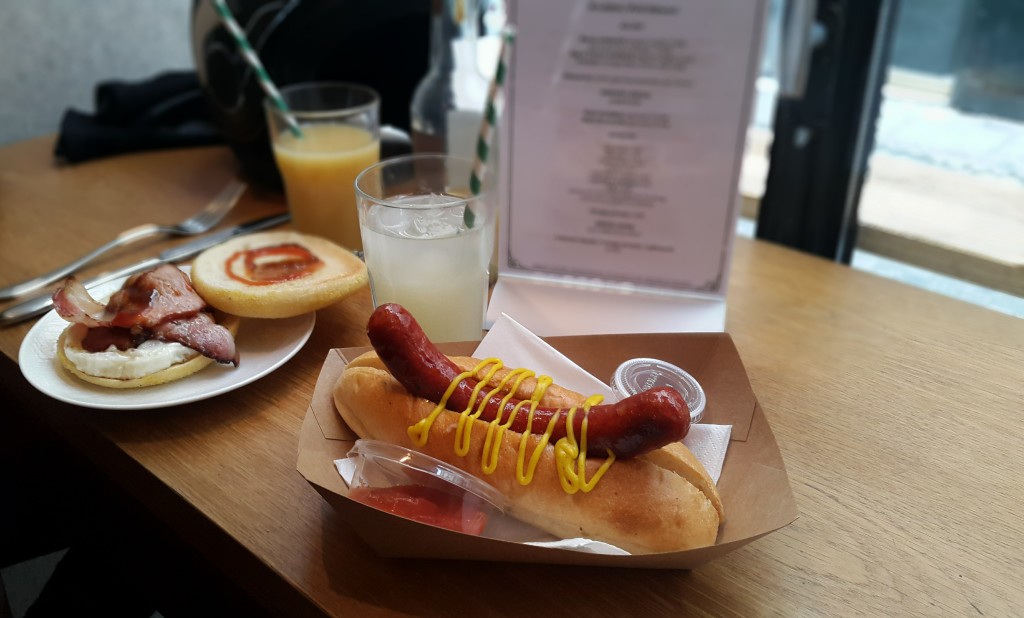 I enjoyed my hot dog however don't expect a traditional American hotdog as this is France. It is the closest I have come so far to an American hot dog however due to a few main factors. I loved that the bread was soft but lightly toasted, the bottom of the bun was filled with onion and it came with a side of homemade relish. The only difference was really the sausage and maybe lack of cheese. The sausage was made in house and was filled with their own recipe of spice and smoke pork.
The only criticism I have about the meal was the home made ginger beer. I love ginger beer and being homemade I expected it to be strong but this was crazy strong. Unfortunately I could only drink half of it as it was more like a spicy beer instead of a ginger beer. It literally made me nearly cough every time I took a sip.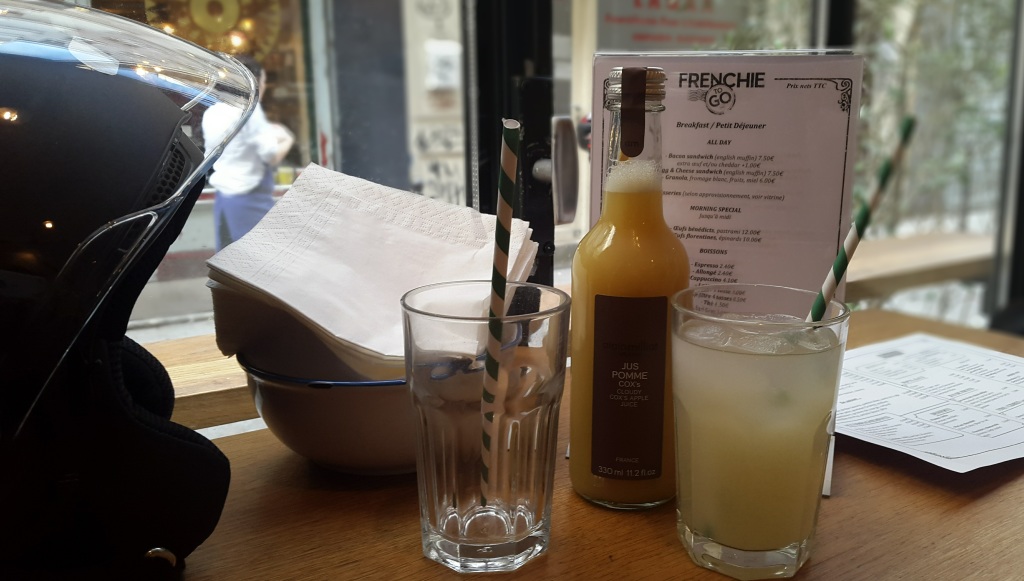 I would definitely recommend it to people that are in the area or wanting some takeaway food which is a little different with a touch of style. I have been told that I should have tried the pulled pork sandwich and they apparently make a good coffee as well.
Frenchie To Go Menu 2015