Paris has one of the most advanced networks of public transport in the world. However since we have lived in Paris I have come up with more than 15 ways of getting around in Paris.
Before we look into all of the ways of how to get around Paris you need to understand the structure of the Paris neighbourhoods. The inner and main area of Paris is broken up into 20 districts called Arrondissement's.
If you are standing around in Paris lost and wounding what Arrondissement you are in then you only need to look at the nearest street sign. Here you will see the name of the street such as Rue Sydney and then you will see the number of the you current Arrondissement such as 1e, 19e etc..
Walking
As mentioned in previous articles Paris is only 9 miles wide from east to west and 6 miles wide from north to south. It is for this reason that walking is the most popular form of getting around Paris. When you go to Paris it is most likely that you will do a lot of walking even if you take advantage of public transport.
The most common areas that you will walk are in the centre of Paris 1e-4e, the Latin Quarter and Montmartre. These three areas are the primary tourist areas and it is most common to take public transport to these areas then walk while in the area.
Paris Rickshaw, Pedicabs and Tuk-Tuks
This form of transportation in Paris is fast becoming a more popular way to get around Paris and other cities in France. The most common place you will find Tuk-Tuk, Pedicab or Rickshaw is waiting for customers at Place De Concord. The reason behind this is that most people finish at the louvre or Jardin des Tuileries then want to go up the Champs Elysees for some shopping or to the Arch de Triumph.
As for a price the only guide I can give you is that it cost around 25 Euro to 30 Euro for a return trip from the Champs Elysees to Eiffel Tower. Make sure you get a set price before you leave. Ask the driver how much? if you are not happy with the price then ask if the driver can do cheaper. If not maybe try one of the other 10 Pedicab drivers waiting for passengers.
There are two main types of rickshaw's you will find in Pairs. One is the short transportation pedal style taxi and the other is the motorized rickshaw's which are mainly used for 2 and 3 hour guided tours.
Smart Car or Mini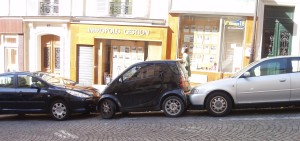 In my experience I would not recommend hiring a car to get around in Paris. The picture you see below is not the only reason to avoid this, never the less it is another way you may want to get around Paris.
Some reason that might turn you off renting a car when visiting Paris are as follows. If you notice the picture below there is a good possibility this could be you as I have seen this in at least 10 occasions. Not only are you blocked in but when parking or leaving a parking spot it is not a large issue for others to bump or hit your car in order to leave. This will not be good for you insurance excess damage fees. Although there is parking in Paris to be found it is quite hard to find, most of the time it is found underground. Fuel is also quite hard to find at times. I know where most of them are because of my scooter experience but most first timers would not. Most of them are also found underground or in a not very visible side street.
The traffic in peak hour is really bad as well, a lot of the time it is easier and quicker to walk to your destination than drive. If you are determined on hiring a car then I suggest a small one such as a smart car or mini which will help you with the petrol and parking side of things.
Parking In Paris
If you do choose to drive a car whilst in Paris you might find a secured parking service such as Parclick.com an extremely good idea. Not only do they have a massive amount of guaranteed car spaces and competitive prices, most of them are within a short walk of all of the main attractions in Paris.
One of my favourite aspects about this Paris parking service is when a huge event such as the Tour De France or Bastille Day is occurring you can book a guaranteed parking space online and avoid not finding a parking spot. Even if you want to drive into Paris for a quick three hour sightseeing day of the main attractions then this service provided by Parclick is extremely valuable for this purpose.
To reserve your parking space in Paris before you go, head over to Parclick.com and check out their competitive prices and extensive list of locations.
Scooter

Seeing Paris by scooter is by far my most favourite way of how to get around Paris. As you read other articles here at Paris Journey you will see my wife and I love riding our scooter around Paris and simply exploring.
The first thing I recommend to people when they ask me what to do when they visit is to hire a scooter and a GPS then see how much of Paris you can cover in a day. Once you have driven around and seen the sights for the first time you can then decide which ones are worth going back to or spending more time at.
As you may have read I used to work for a Paris scooter tour company. This is a great solution if you are worried about riding a scooter for the first time. It used to take me 3 hours to cover 80% of Paris monuments and popular areas. If I was to cover the entire list of monument in Paris it used to take me 5 hours. This includes jumping off when possible and taking a few photos for 5 minutes.
Regardless of how much you choose to use the scooter it is by far the quickest and easiest ways to see Paris. Not only is parking readily available but whenever there is traffic you can simply drive between the cars that are not moving and it is not frowned on like other countries.
Métro
The Paris metro is one of the most advanced and easiest metro systems in the world. We have utilized the metro a lot since living in Paris however once we got a scooter we were glad not to have to go underground any more.
The metro is cheap, will get you almost anywhere you want to go in Paris and is the perfect solution for tourists. When you catch a metro there are a few things you should know.
Always hold on to your baggage nice and tight and always know where you wallet or passports are. The subway has a bad reputation for pickpockets and thieves. I have seen it many times, just before the doors close a very quick young male will duck out of the train and start running. The unsuspecting tourist does not know anything has happened until it's too late and the doors are closed.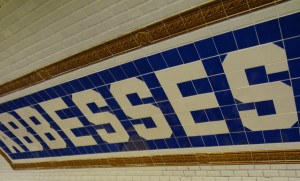 On the metro you will get a lot of performers or beggars however you want to look at it. Often you will get people playing a guitar, singing, playing an accordion, handing out cards that say they need money or I have heaven seen a guy put up a sheet on the railing and start a puppet show.
At times the metro can be a little uncomfortable. During peak hour it can get very tight, hot and you will struggle to get a seat. At some metro stops you will notice an abundance of homeless people sleeping on benches and an overwhelming smell of urine in stairwells.
If you are traveling at a late hour you should know that the metro closes at 1pm. We found out the hard way when the trains just stopped, everyone got off and then we had to walk home from the metro we were at.
Bus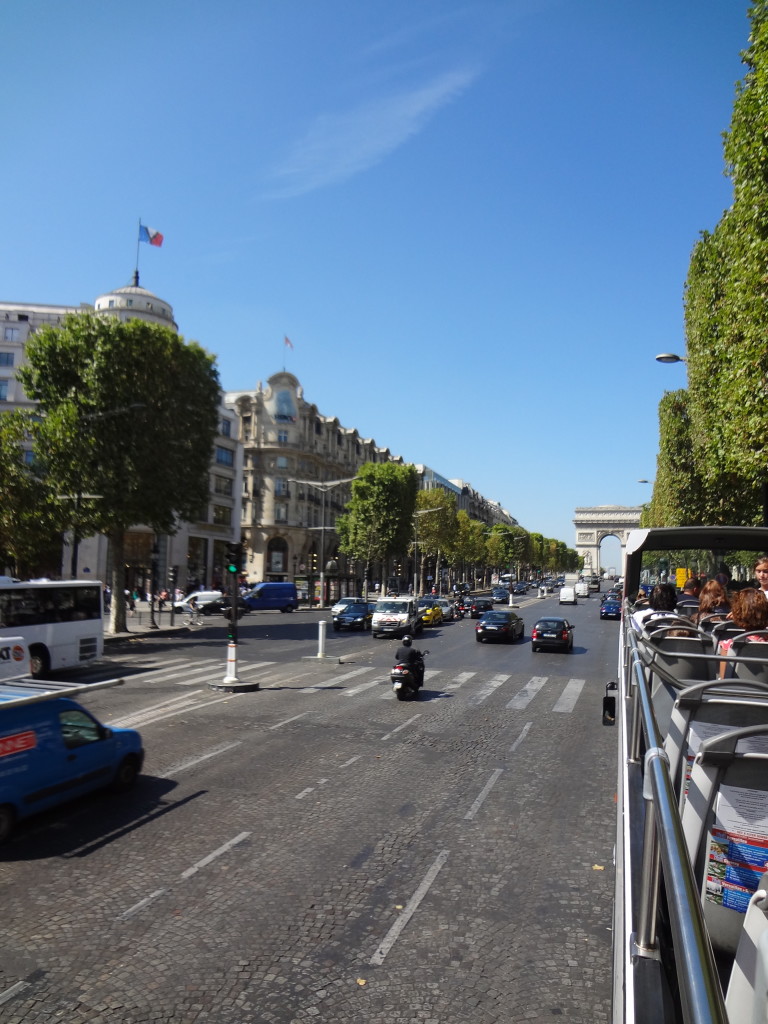 This would be the second choice as our most favourite ways to get around Paris. Although it is slightly harder to work out than the Metro it is still quite easy. The best thing you could do if you want to get around Paris on a public bus is to get a bus map from a tourist information centre or hotel. It is very similar to the metro system, you just need to figure out the direction your heading and the number or colour of the line you want to catch.
Our reason for liking this form of Parisian transport is because you can still see a lot of Paris while you are trying to get from A to B. Of course you could take the option of the red bus hop on hop off tours which also stop at many popular locations however there is not as many bus stops and public transport is much cheaper.
Just a warning: Yes it is very possible to get on the bus and not pay for a ticket however you would be surprised how often there are ticket officers patrolling the busses asking for your ticket. So be prepared if you are going to try and get a free ride it may end up costing you a lot more than the priceof a ticket.
Horse and Cart
If you have ever been to the Eiffel Tower then you have probably seen the horse and carriage that is sitting on the road at the base of it. If you are a true romantic then I you can't go past this amazing tour which would be sure to melt any women heart. This is a great way to see Paris by night.
You have the choice of romantic ride, dinner ride, proposal ride and lunch ride. These are all packages that can be included and designed around you needs. However the packages are not cheap. The cheapest of the packages is 135euro and most expensive is 545euro. However you can go on a simple 1 hour ride for about 60-90euro.
RER
The RER has five different train lines which connect the Paris inner city to the Paris surrounding suburbs. The train lines are colour coded and alphabetical as followed A,B,C,D and E. The two most commonly used lines are the Blue line "B" which goes to Charles De Gaulle and the Disneyland line which is the Red "A" line.
Each of these stations are usually connected or very close to a traditional Paris metro stops. The tickets that you use on the metro cannot be used on the RER so make sure you buy the extra ticket because the ticket officers are frequently found on RER lines.
Tramways
The Paris government has constantly been improving and expanding the tramways around Paris. In fact in December 2014 the new T6 tram line will be completed. If you can't find the trams then you may have not been on the perimeter of Paris as there are none located within the inner city.
You will find the two most popular lines on the perimeter of Paris and the a few more out towards Orly and La Defence. I really enjoyed using the trams in Paris. I found them very clean, handy and defiantly convenient if you have a need for them depending on your location and destination.
SNCF TGV and Eurostar Train Stations
These types of trains are commonly used to leave Paris and either travel long distance within France or to foreign countries. Often you will need to show a passport or European ID card in order to travel on these trains.
The TGV can reach speed of 320km per hour and is a great way to travel if you want to see Lyon, Marseille or other day trip from Paris as they have a number of trains per day that frequenting destinations like these every day.
Vélib Bikes
As you walk around Paris you can't help but to see the abundance of Velib stations. These can be used by tourists but are very often used by the working Parisian to ride to work. The machines may look a little daunting but is quite easy and cheap if you just follow the prompts.
The Velib bikes are found at over 1800 station all around Paris which is approximately every 300 meters. If you only use your bike and return it back to a Velib station in under 30 minutes then it is free to use however they will take a security deposit from you credit card which is refunded in a few days.
30min-1h = 1euro
1h-1.5h = 2euro
1.5h-2h = 4euro
Tip: before you choose a bike on the Velib machine you need to test the tires, spin the wheels and check the chain as you could often get a faulty bike if this is not done.
Batobus Paris Ferries
The Paris ferries which are run by the company Batobus has 8 stops along the river Sien and can be a great way to break up the boring travel of the Paris Metro. The price of a Paris ferry is very reasonable at 16euro for adults and 7euro for children per day. The timetable can be found at the batobus website however I can tell you that they frequent each stop every 20-25 minutes.
Batobus Paris Ferry Stops List
Eiffel Tower
St Germain De Pres
Jardin de Plantes
The Louvre
Muse d'Orsay
Notre-Dame
Hotel de Ville
Champs Elyseees
Taxi
Paris taxies are not only commonly used by tourist but they are a large part of Parisians citizen transportation. They can be quite affordable if you are traveling within the city limits however you need to watch out for any hidden expenses.
Did you know that when you order a taxi by phone the driver has the right to start the clock at the point they leave there origin. So sometimes you will get in a taxi and see that there is already 15euro on the clock. This may be because the last drop off was located outside Paris and once they started to come and get you, the clock had already been started.
Some other common fees you will see are the 4th person fee, so any more than 3 people in the car then you will have to pay an extra amount set by the individual Taxi Company. You are allowed one piece of luggage in the trunk and any after that will incur a fee. If you want a child seat this also costs extra.
There is a new service in the past few years which is a shared taxi service. When you call for a taxi you can tell them you are happy to share with someone else. If you have no problem sharing with a stranger then you may feel comfortable to save a few bucks. I have never felt comfortable with this and can't tell you very much about it.
Shuttle
When you search on Google for a shuttle service in Paris you will find a huge list of services and it can be hard to choose from. Don't be fooled, a lot of the services are not very good, over price and unprofessional. This is why I have written a separate article and sorted the list to find the best Paris shuttle service.
A shuttle service can be a great and inexpensive way to get around Paris. Most of the time they are used for simply getting from airport to hotel however there are other attractions that you can use them for. The two most popular that I can think of are Disneyland and Versailles.
There are two different forms of shuttles which are private and shared. The shared service is cheaper however can take longer to get to or from your destination due to picking up different passengers.
The other form of shuttle service is a private van, car or limousine. If you have a group of 4 or more this will defiantly work out cheaper. However if you any less passenger and it may be worth taking the shared shuttle option.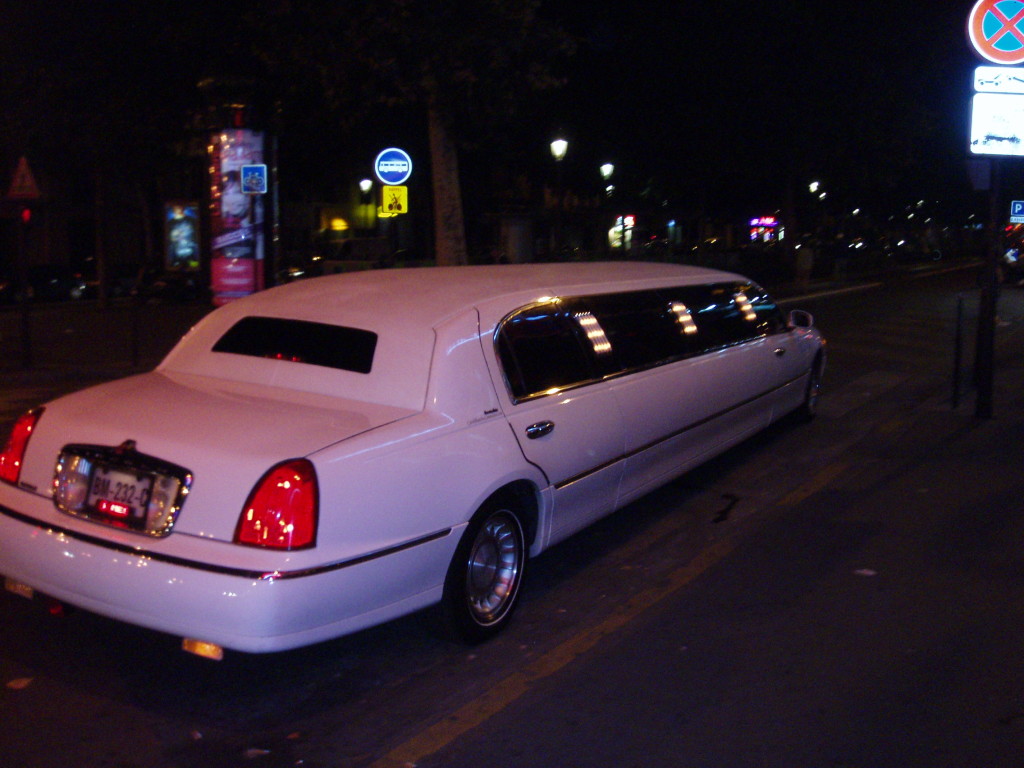 Segway Guided Tours
Segway's are not for everyone. It will take a little bit of practice but when you get it you will have loads of fun. Although this has been added to the list it is only useful on guided tours as there is not real any room to ride them on many busy footpaths.
Wrap up
If you think I have missed any then please leave a comment in the section below. As for our favourite modes of transports it is defiantly walking, scooter and public bus. These may not suite your mobility which is why we have listed a number of alternatives above. We hope we have shown you adequately how to get around in Paris without any problem. Have a great time!