So we had our Christmas day in Paris all planned out but unfortunately two thieves altered it dramatically.
We arrived at the Champs Elysees for some Christmas morning brunch and realized that we had no cash so decided to use a cash distributor (or ATM as we call it in Australia). Thinking that it would be safer to use the internal cash machine we walked inside the bank however it turns out to be just as hazardous.
As I found out from the police officer after the incident, the Roma/Romani gypsy scammers are not afraid of security cameras or police. I am told that even If the robbers were caught by the police, the French Government would give the perpetrator 200Euros and a plane ticket back to their home country Romania or Bulgaria because most of them are illegal living in France. With this money they  can come back to France or a neighboring European country and start again. Of course this means that they get away with the crime with little to zero police investigation, which also means that visitors to Paris must be extra vigilant about their possessions and also the potential to be scammed.
The Paris Scam we encountered was typically simple. I was standing in a "secure location" at the distributor (ATM) and had just put my debit card in the machine. Megan was standing behind me and I noticed a young male of about 16 or 17 years old approach the cash machine next to me. He was at the machine however was not entering his card or performing a transaction. At this point I froze and realized that something was not right. I stopped performing my transaction and tried to cancel it.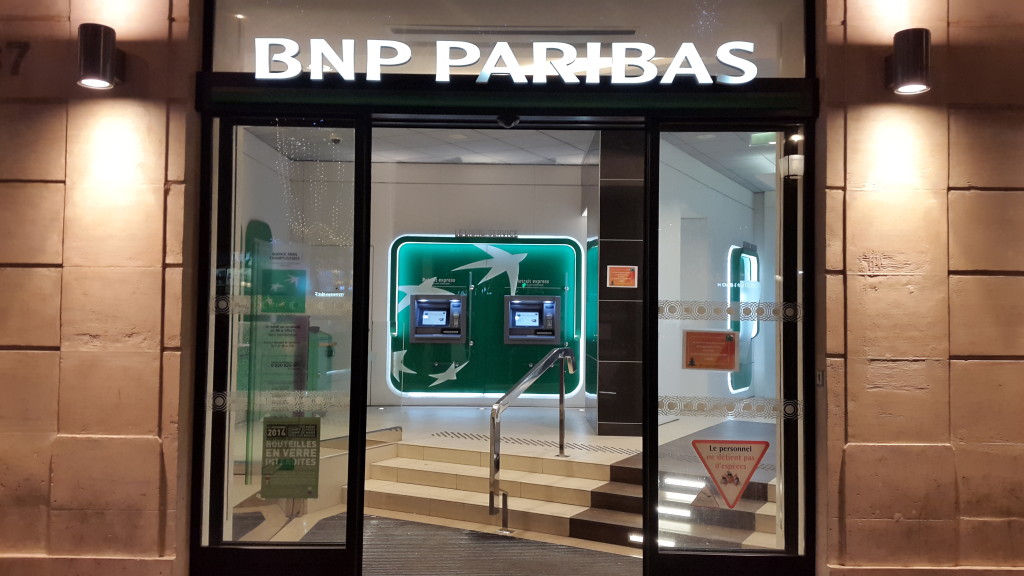 While I was pushing the buttons another young male came up from the other side and started waving a piece of paper in front of me and the screen. I knew exactly what was happening and grabbed his hand then pushed him backwards a little. I was sure I hit the 'Cancel' button then went to leave but realized my card was still in the machine.
In that moment my main priority was that Megan was ok because she was out of my vision and directly behind me. It's fair to say I was very distracted, which is the scam, and how they are able to steal money from the everyday person.
I came back to the machine to get my card but as I never entered an amount into the machine the only thing which could possibly have happened was when he was flashing the paper in front of the screen the thief was actually pressing buttons with the knuckles on the back of his hand.
After much pushing and shoving, being spat at several times and thinking to myself "Am I allowed to hit a 16 year old who is spitting at me and trying to steal our hard earned cash?" We grabbed the card and began to leave the bank.
As we were leaving, one teenager was humping the cash machine that we had been using (which we later found out was to disguise what he was actually doing to the machine) and the other was following us to the door and spitting at us. I raised my fist to punch him and he cowered back inside saying "No, No".
We actually had no idea that any money had been stolen so we went about our day and found a good place to have our Christmas brunch on the Champs Elysees. We were still in a good mood thinking that we had escaped from the incident unscathed and enjoyed our food.
It was only when we got home where I started to think the scammers' reactions were quite strange as we were leaving the bank earlier that morning. It felt to me that the scam was still going on and that something was not quite right about the whole situation.
I checked my online banking and to my disgust and surprise there had been a withdrawal of 300Euro at a Cash distributor (ATM) that day which was not made by us. If I was to convert the money which was withdrawn to Australian Dollars it equalled AUD$451 at the time.
From here I felt absolutely sick to my stomach and could not fathom how exactly they were able to pull off the scam. The one thing I do know is that it's all about distraction. There were three things going through my mind at the time and my fight or flight instincts were forcing me to decide which was more important. The first was safety of Megan, the second was attending to the cash machine and the third was fighting them off and how much force I was actually allowed to use in a foreign country.
After the incident we spent three and half hours in the police station waiting for them to get around to us and by the time we exited the station it was dark. The officer who eventually attended to us was extremely nice and helpful.
I also asked him how much force I was allowed to use in a situation such as this. He said to me that the law states if he does not throw a punch or try to harm you then you can't retaliate. However I was told unofficially that because they are "Roma" and most likely illegal immigrants, nothing would happen to me if I was to get into a fist fight with them, because they will not make an assault complaint because they are "illegal". He also told me that if a gypsy did complain then there is no way the police officer would waste the time on them in an incident such as this due to the fact that they were committing a crime in the first place.
After discussing our situation with other Parisians I found it a little off-putting about the overall gypsy/Roma mentality, I could feel and hear a very open hatred towards the Roma Communities which i can understand after seeing it first hand.
I also found that a slight lack of education can lead people to believe they are only from Romania. It is true that the majority of Roma/Romani people in France are from Romania and Bulgaria. However the term Roma/Romani refers more to a group of traveling migrants. In fact a Roma persons home country could be Turkey, Greece, Serbia, Romania, Moldova, Bulgaria, Macedonia, Hungary or Slovakia. (Here are two great resources to read more about Roma People – Romani Definition – Roma Wiki)
So how can you prevent something like this happening to you if you come to France?
You are no more safe with the internal bank machines to the external bank machines when withdrawing money.
The most common time of year to have this happen is Christmas and New Year's.
The most common places for this to happen is in touristy areas such as Champs Elysees, The Eiffel Tower, Montmartre etc..
Be proactive and before approaching a cash register look around for scammers and maybe even pretend to withdraw beforehand.
Personally focus on what is happening to the machine, read every word and make sure the operation is completed successfully.
After it is all said and done it cuts deep that they were able to get one over on us however it would have cut a lot deeper if one of us was hurt during the incident. So afterwards we decided to focus on the fact that it's only money and we were grateful to be able to spend the rest of Christmas day/night together.
If you're interested in seeing how the rest of our Christmas day unfolded, CLICK HERE>>>