Previously we took a day trip from Paris to Deauville, located in the west of France on the Normandy coast. Our travel duration was approximately two hours from Saint Lazar train station with trains leaving the station every one to two hours. The earliest train departing Paris is usually 7am and the latest train leaving Deauville is 8pm, this leaves you with about 10 or 11 hours of activity time.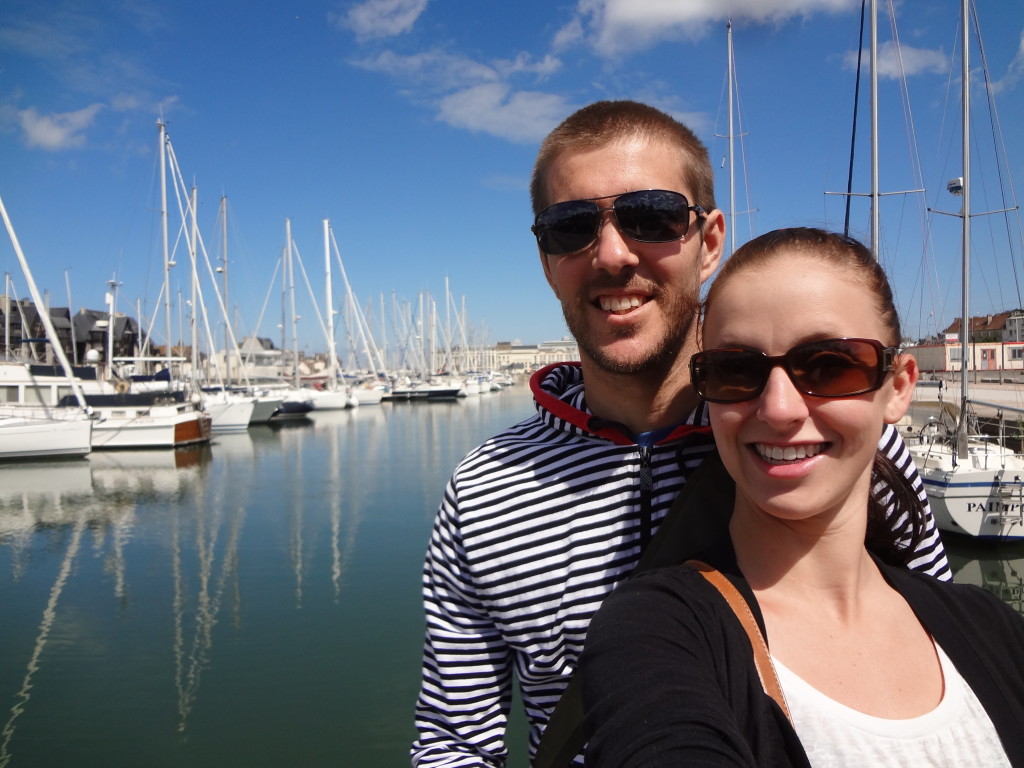 Our day trip to Deauville was a very refreshing break from the everyday life style of a big city. When we live in Australia it takes us 2 minutes to walk to the beach so our main goal in mind was sun, sea and sand. It takes about 30 minutes to walk from the Trouville-Deauville train station to the beach or there are taxi's waiting right outside the station and the journey is only about 5 minutes.
Our choice was to walk to the town centre which took about 15 minutes and grab something to eat before venturing on to the sea side. The town has some amazing boutique shopping and even more amazing restaurants scattered between two or three main streets. One of my Parisian friends recently returned from a Paris to Deauville day trip and he told me he only went there to have dinner and a few drinks as the seafood is that good. He informed me that the best time to have sea food in Deauville is in the colder months as it is always very fresh.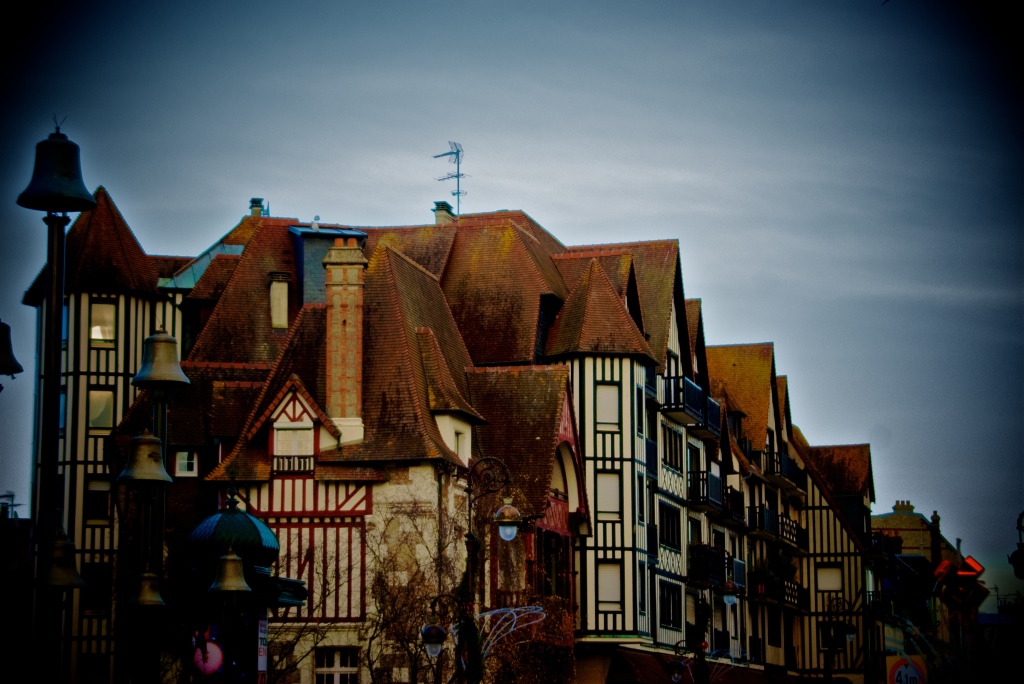 After a nice meal at a restaurant in the centre of town we slowly worked our way towards the ocean while stopping at many small boutique shops. We were mainly window shopping as the prices were on the higher end of the scale.
We finally arrived to the beach at about 2PM and to our surprise the beach was fairly empty especially since we visited during the summer time in July. The temperature was about 22 degrees Celsius and the sun was coming and going amongst the clouds. For us it was still warm enough to lie on the sand for a few hours and I even went swimming a few times.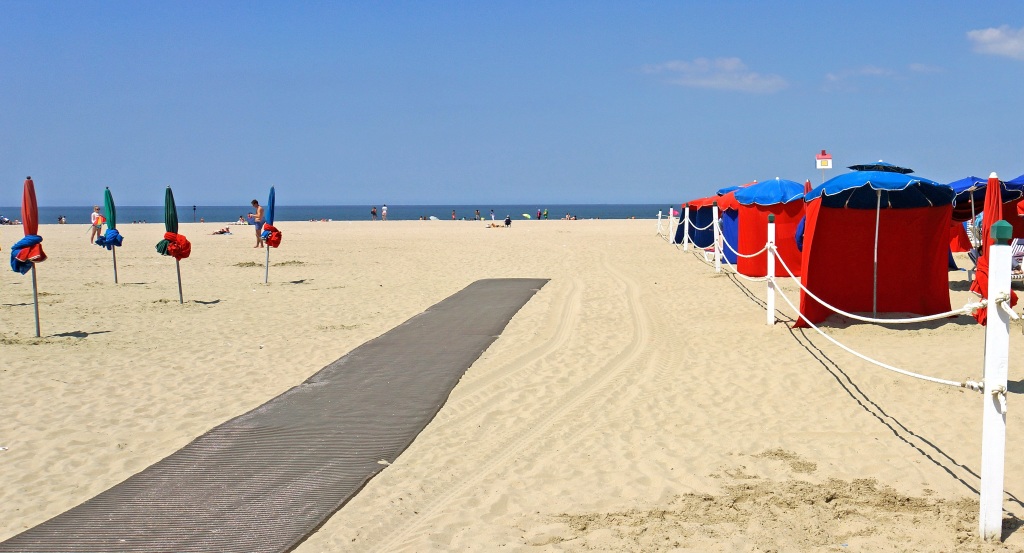 The beaches were very different than the Gold Coast, Australian beaches which we are used to. There was an absence of waves and people, the water was extremely cold due to arctic currents coming from the North, There were no strong ocean currents that swimmers had to be concerned about and the sand was also quite different. When we initially walked onto the beach the sand was fine and powdery with a tinge of black to it and then when I walked to water the sand was sharp with lots of shells which almost required footwear to walk on. I also noticed that the salt content in the water was a lot higher when compared to Australian oceans.
After a few hours of sun-baking and swimmer we walked along the boulevard, which ran alongside the beach and stumbled upon the Deauville Casino. We thought it might be cool to put a small amount down on a black jack table. When we tried to get in the casino with our Australian drivers licenses they refused us entry and said we need our passports to gain entry.
By this time it was starting to get late so we grabbed a quick bite to eat in the centre of town on the way back to the train station while taking photos along the way.
Other Things To Do In Deauville
Prior to our Paris to Deauville day trip, Megan took a day tip of her own with a girlfriend who also worked at the Moulin Rouge just to visit a day spa. From what she has told me they had a great time and the spa was really enjoyable.
On our next trip to Deauville we also plan to visit Trouville which is a neighboring suburb and is apparently much like the town of Deauville. We would also like to shoot a round for golf and maybe go to the horse races for something different. We are also thinking about visiting the Festival du Cinéma Americain in early September which is held in Deauville as a cool little day trip.
As you can see there are a number of things you can do for an 11 hour one day trip from Paris, so here is a revised list of things to do in Deauville.
Things To Do
In Deauville
Spend time at the beach
Hit a round of golf at one of two amazing courses
Gambling at the Casino
Have a Punt at the Horse Races
Visit one of many nice restaurants in Deauville
Relax at a day spa
Walk the Town shopping
Take Photos of the unique building in the city centre
American Film Festival in early September
For more information when you arrive, you can walk to the centre of town and visit the Office Du Tourisme located on Place de la Mairie. Alternatively check out the Deauville Tourisme official website http://www.deauville.org/en/