When it comes to fine dining and famous restaurants, you are spoilt for choice in Paris. The city is synonymous with exquisite meals and romance, where if you are in the mood, they have the food.Here is just a selection of some of the most famous restaurants in Paris.
Le Meurice
Rue de Rivoli, 75001 Paris, France
Within the glamorous hotel Meurice, you will find a dining hall with heavy damask curtains, crystal chandeliers and mosaic floors. The dining hall is better known as the Le Meurice restaurant, and it is probably the most famous restaurant in Paris, especially since it picked up a third Michelin star in 2007.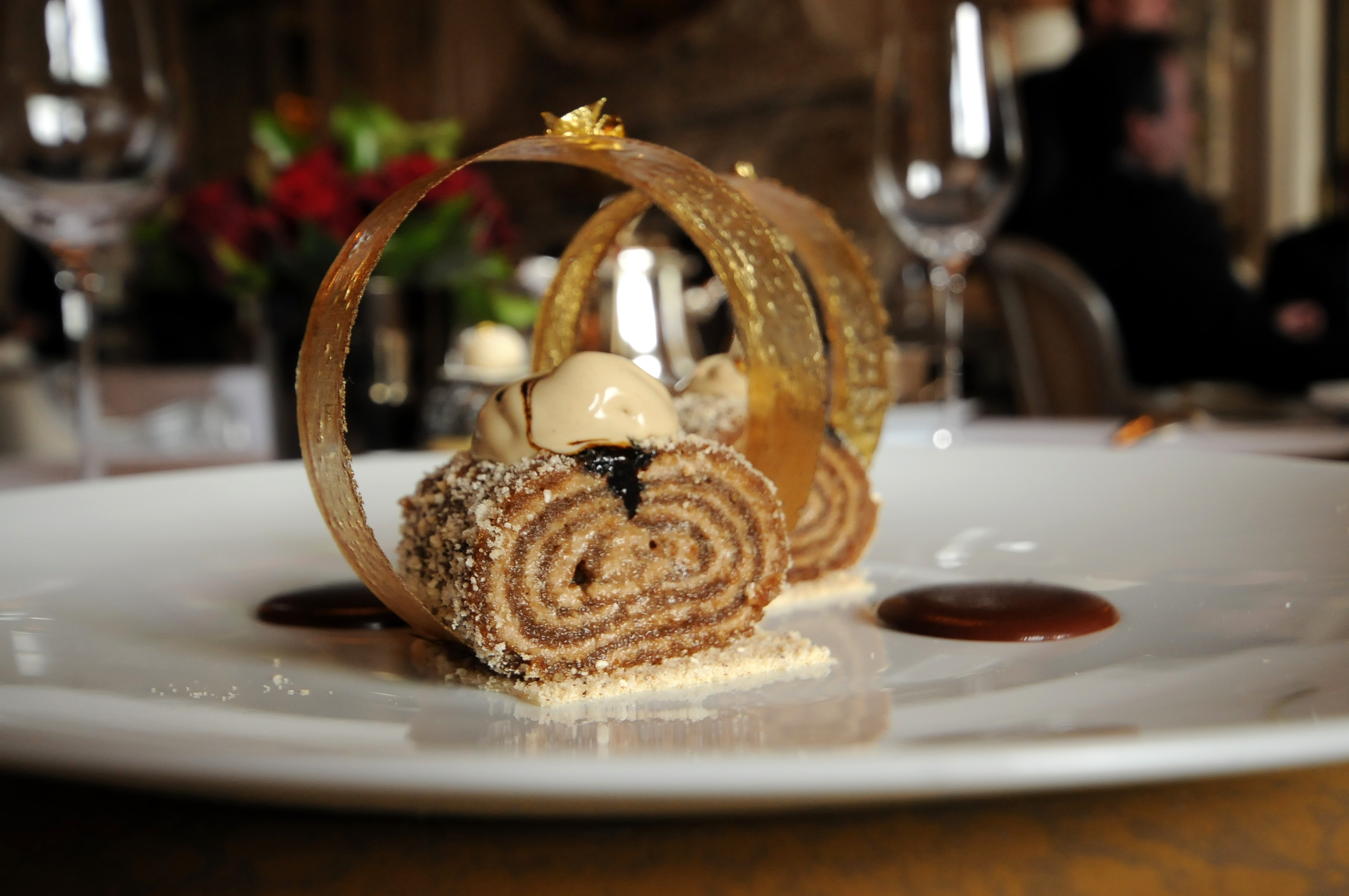 The grandeur is reminiscent of something that the French Royals would enjoy. The décor and surroundings are only two reasons why this restaurant is on our list of famous Paris restaurants. The menu is evolves and changes on an almost weekly basis, and they even feature occasionally rare food items that cannot be found elsewhere in the country. The chef has a very deep knowledge of the classical Escoffier vintage culinary technique, so you should expect a range of classy French foods to try.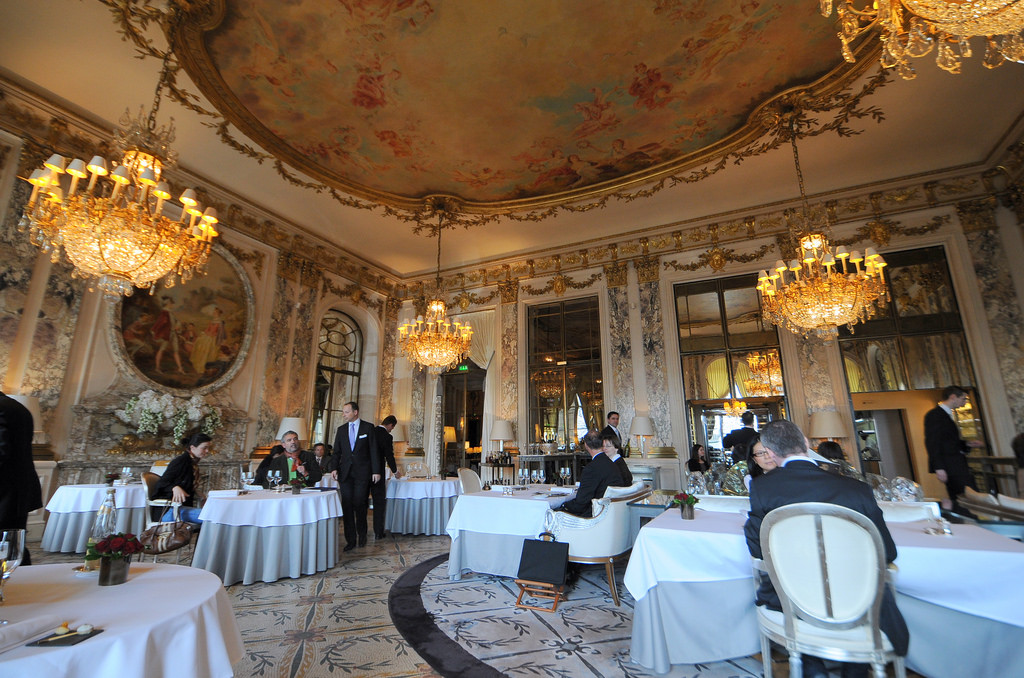 Le Meurice is one of two dining areas in the Meurice hotel, but only Le Meurice is dedicated to fine dining.
It was decorated by Philippe Starck and was inspired by the Salon de la Paix at the Château de Versailles.
Expect to pay over 500 Euros if you want a starter, main and dessert.
Spring Restaurant
Rue Bailleul, 75001 Paris, France
The Spring restaurant has been popular since 2010, when an American chef Daniel Rose moved over to Paris to showcase his cooking skills. A Chicago man trying to compete in Paris has the odds stacked against him, but he has been running a thriving business since 2010, and he continues to draw people in with his inventive cuisine du Marche menu. There is a basement area that has a wine bar, charcuterie, plats du jour and cheese to stave off hunger. If you are looking for a reservation on the floor above the basement, you may have trouble because it is often fully booked.
At the time of writing, 2016, the Spring website is awful and only useful for booking a table online. You can find out more about this restaurant from this article, from Google+ reviews and from Trip Advisor. One of the biggest things you will notice is that it is a little hit and miss. The food is brilliant but very expensive. Sometimes, people are tempted not to return because they expect a slightly brighter shade of brilliant for their money; nevertheless, the restaurant is well reviewed and continues to be as heavily attended as a Paris train station.
Sit on the top floor and you can see the chefs create the food as you sip your wine.
The floor below the kitchen has the most charm and is often the quietest.
The white strawberries may thrill you, but you may be put off by the frothy food if you have a British or Americanized palate.
Ze Kitchen Galerie
Rue des Grands Augustins, 75006 Paris, France
Enjoy contemporary French cuisine thanks to the head chef William Ledeuil. Ze Kitchen Galerie is famous because its décor matches its neighbouring art galleries. The restaurant features French cooking with strong Asian influences. You will notice a distinct Asian influence when you taste the oriental herbs in the food. The head chef is a veteran in the trade, and has trained some of the top chefs that now operate in France and abroad, which is why many people say Ze Kitchen Galerie is their favourite Paris restaurant. As it says on their website, "Tastes do not hide, textures are exhibited, and colours are displayed with jubilant irreverence."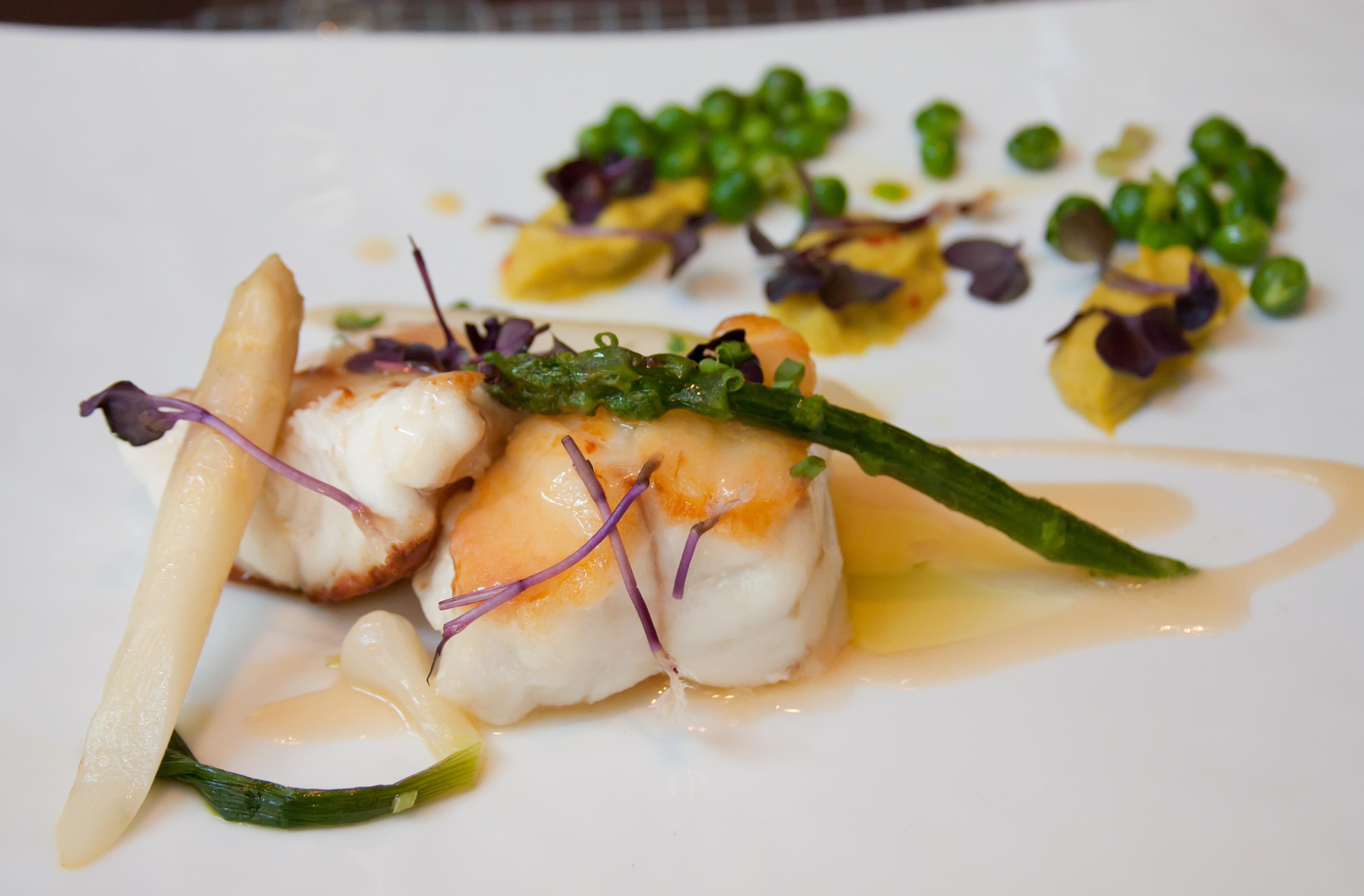 If you are looking for a restaurant in Paris, then restaurant offers a very complex blend of flavours right from your starter, all the way to your dessert. Even people with an untrained palate will recognize the original mix of flavours and aromas. The tasting menu is very good if you enjoy meat and fish. Ask for the tasting menu without meat, without fish, or without both, and the quality of your meal drops dramatically.
There is less variety than most of the restaurants on this list, but the menu changes rather frequently to make up for it.
The menu often features healthy food that is presented in a natural manner without over processing.
The beautifully decorated culinary workshop used to be a canteen.
Macéo
Rue des Petits Champs, 75001 Paris, France
One of the best restaurants in the city for vegetarians is Macéo. It is run by an Englishman called Mark Williamson, and the restaurant draws people in with a regularly changing tasting menu. The menu is not exclusively for vegetarians, but Macéo has more vegetarian options than any of the other popular restaurants in Paris. As a result of its veggie-orientated direction, it receives an unfair amount of negative reviews, since some people do not think of vegetarian meals when they think of fine dining.
The menu changes according to the seasons. When certain vegetables and fruits come into season–that is when they are used in the restaurant. The setting within the restaurant is very light and open, which is partially thanks to the large window running down the side of the building. The prices are very good considering the quality of the food you receive, and it is the perfect place for vegetarians, especially since vegetarians are neglected in many of Paris's fine dining and famous restaurants.
The food is fantastic, but they do need to hire better serving, administrative and waiting staff.
They have a cellar that holds over 10,000 bottles of old and new wine with fair prices.
The vegan food is good, but not mind blowing.
Honorable Mentions
As mentioned in the introduction, there are plenty of good places to eat in Paris; here are a few popular alternatives.
Yam'Tcha
121 Rue Saint Honoré, 75001 Paris, France
This is another popular restaurant that serves French food with an Asian twist, plus it has a female head chef, which is very rare in famous Paris restaurants.
La Tour d'Argent
Quai de la Tournelle, 75005 Paris, France
It is fast becoming known as a famous duck restaurant in Paris for its duck Confit and duck in orange meals.
Le Jules Verne
Eiffel Tower, Avenue Gustave Eiffel, 75000 Paris, France
The fine dining food is great, and you get to eat with a view from the Eiffel tower. For a tourist, this alone is a reason to visit France.
L'As du Fallafel
34 Rue des Rosiers, 75004 Paris, France
Israel has brought the world many great inventions, innovations and artworks, plus they invented the Falafel. The restaurant is very small and more of a takeaway, but it is very popular and often has two long lines stretching into the street.