Fish and chip store's in Paris are like trying to find a needle in a hay stack. Growing up on the beach in Australia, both Megan and I absolutely love a good fish and chips dish.
Through word of mouth we had heard about a British style fish and chips store situated on one of the side street which stems off Canal Saint Martin. The area is filled chic restaurants and quirky takeaway stores. Enjoying any type of picnic or takeaway food on the canal is a must for any traveller wanting an authentic Parisian experience.
It was late afternoon as we placed our order at the sunken chip. We purchased our meal which total about 28euro and took a seat on the Saint Martin canal in one of the only patches of sun left. Our feet dangling over the ledge of the river bank as we began what we hoped was a tasty little slice of home.
The banks of Canal Satin Martin were lined with people picnicking, sipping Champaign, enjoying what sun was left and in our case devouring fish and chips in record time.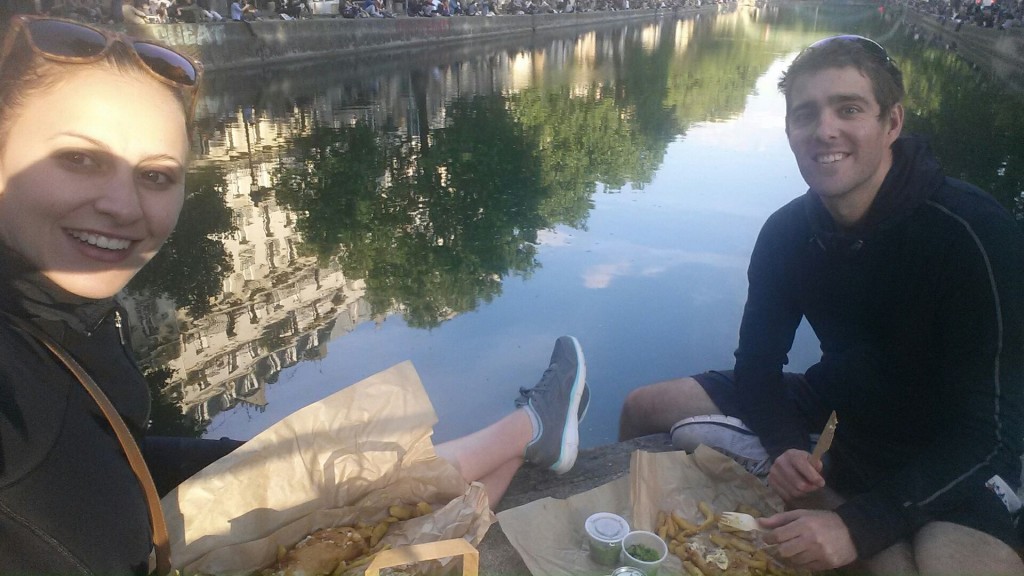 Food
For us the food was a breath of fresh air and for a brief moment it almost felt like home. Most fish and chip lovers would have their favourite local store back home. If I was to compare it to our favourite fish and chip store back home then the only negative I would have is that it was a little on the oily side.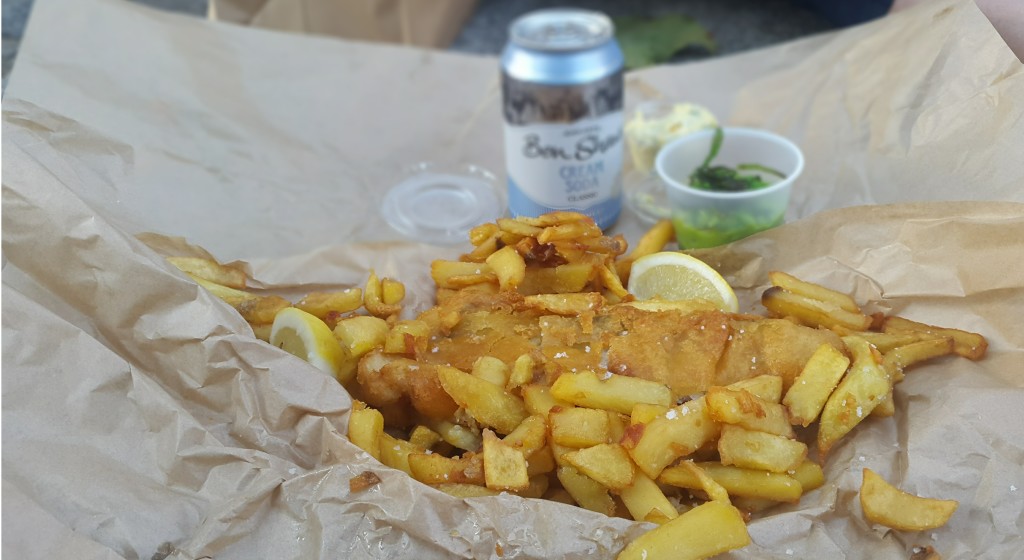 The chips were amazing, they were crunch yet thick which exactly how we like them. The meal also came with a side of warm mushy peas and beverage. Although it' very common in England to have mushy peas as a side dish with your fish and chips, it's not so common in our home country of Australia. From my lack of experience with mush peas, I think they were pretty good.
The fish that we ate did not come with any bones however it did have some skin on it visible inside the batter. This didn't bother me but some readers may find this off putting. We also enjoyed that the fish did not have an overpowering fishy taste.
The refreshments which came with the meal unexpectedly included a few irregular choices which are not traditionally found in Paris. These choices include traditional creaming soda, Dr Pepper as well as the common options such as Sprite, Coke etc…
Staff, Shop and Atmosphere
The atmosphere was amazing on the banks of the canal. The weather was brilliant and with the influx of people lining the banks made it feel like we were joining a kind of popular Parisian social event.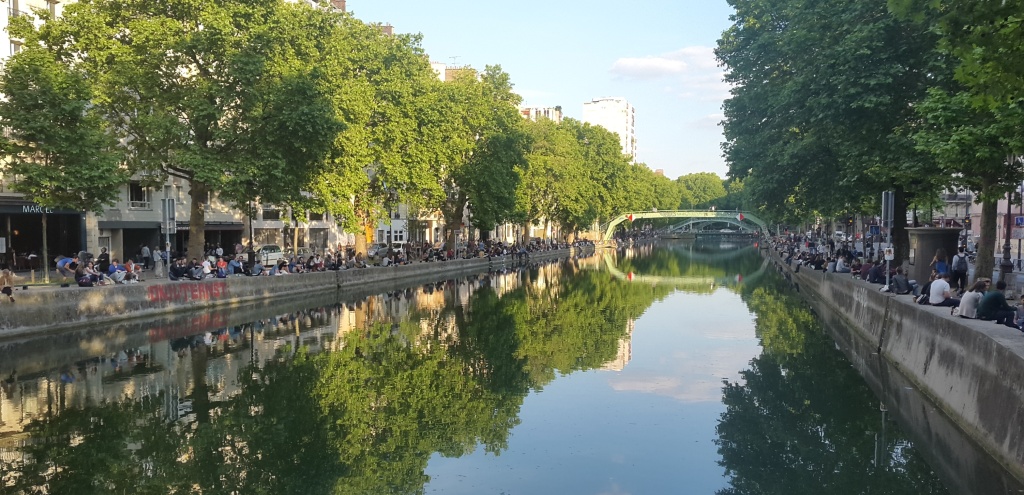 You could choose to eat your meal in the sunken chip shop as It seemed fairly laid back but nothing fancy. Unless the weather is terrible I would suggest choosing the takeaway options and heading to Canal Saint Martin.
The staff were friendly and helpful with any questions we had about the menu. Both staff seemed to be English speaking natives, however I could not tell exactly what country they were from.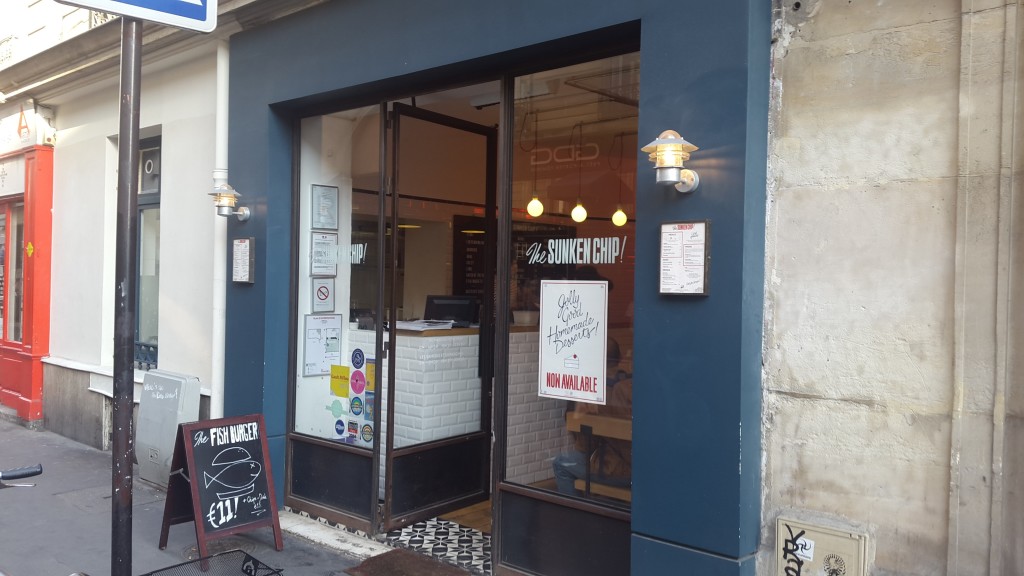 Recommendations…
The Sunken Chip is a very good takeaway/restaurant for people such as us who have been living in Paris for a while and miss home occasionally. Even if you're only visiting for a short time, it is the perfect takeaway choice to enjoy a picnic on Canal Saint Martin.
Try not to compare it to your favourite fish and chip store back home because nine times out of ten your favourite local fish and ship shop will win purely because it's your favourite.
For my review of The Sunken Chip restaurant I would give it a 4.5/5 starts. My reasons for not giving it a 5 star rating is as follows.
As mentioned earlier, it was slightly oily and although it was very nice, by time we finished the meal we started feeling the effects of the excess oil.
I personally think that the price could have been a little better. For a fish and chips meal with a drink and side of fries, it will cost you between 14 and 16 Euros at the Sunken Chip. If you were to translate this to AUD then it would be about $20 for the entire meal. If the meal was closer to the 10euro mark then I think it would be a more regular takeaway option for us.
Address: 39 Rue des Vinaigriers, 75010 Paris
Phone: 01.53.26.74.46
Website: http://www.thesunkenchip.com
Opening Hours: Closed Mondays, 12:00 to 2:30pm, 7:30pm to 10:30pm