For some travellers finding public toilets in Paris can be a traumatic experience, for one reason or another. You may be pleased to know that the city's sanitation system has come a long way in the last ten years.
Ten years ago the majority of public toilets were paid toilets, now you will be hard -pressed to find a paid toilet. In some cases there may still be a tipping tray for the toilet attendant who cleans and maintains the facilities, however this is not a compulsory fee.
Toilet Talk

Using the term "bathroom" or "restroom" in Paris will probably not get you the end result you're looking for. These terms are not commonly used basically because a bathroom usually does not have a toilet in it. Look out instead for a recognizable illustration, or the words Toilettes and W.C. If you see the Term "lavabo" be careful not to confuse this with "lavatory"; the term lavabo actually means washbasin.
Turkish Toilets
Known as elephant feet toilets, Turkish toilets or squatting toilets, this is a sight which many of us dread in Paris. Although they are not as common as they once were, you will still find them in older buildings. In fact one of the basketball venues I played had were only equipped with this kind of toilet. These are probably the most uncomfortable and unsightly toilets you will come across. You may find yourself scratching your head as to how it actually works.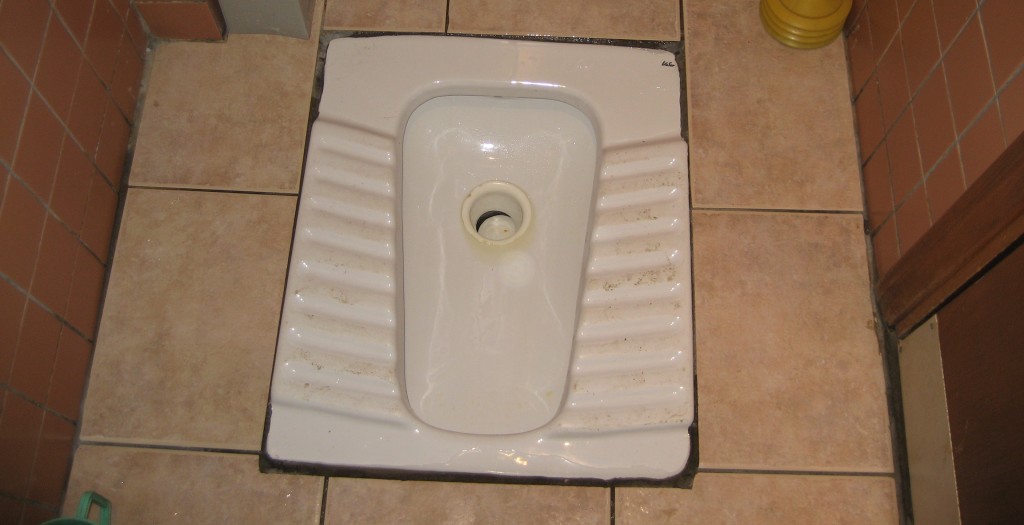 For full instructions on how to use a Turkish Toilet, which includes pictures, check out this WikiHow link. It just goes to show you really can find anything on the internet.
Warning: When you flush a squatting toilet, sometimes the water can come out quite aggressively and spill out of the bowl onto the floor and anything that's on the floor.
Locate a Wall
Finding a wall to urinate on is not recommended however it is a common sight if you live in Paris long enough. Watch this video from the wall street journal which I find amusing which is about the toilet police (Brigade des Incivilités) in Paris.
The "Brigade des Incivilités" are not just in charge of finding public urinaters, they actually look for other offences like illegal dumping, not picking up dog defecation and cigarette, as well as littering. I have seen people on the act of urinating on walls many times, and always cringe at smell and sight of it. I once saw a man withdrawing money from a bank (or at least pretending to withdraw money from a bank), while urinating on the wall. Needless to say I don't use this bank machine anymore.
Finding a Toilet In Paris
Previously it was hard to find a W.C. in Paris, however recently there have been a few new tools made available which can help you find one quickly.
Paris Toilet Website: Here is a link which will help you find one of the many 'sanisettes' which have been installed around Paris in recent times (http://meslieux.paris.fr/sanisettes). I recommend saving this website as a bookmark to your smartphone before you arrive in Paris. Although its content is in French, the tool is self-explanatory. Simply add your address or Arrondissement and it will show you the locations of the sanisettes closest to you.
Paris Toilet App: The second tool is a smart device application available on ios and android called "Toilets of Paris". This app is based on the same concept as the website which was previously mentioned, but I have found it not to be always accurate. However, it may result in more options than the previous tool. This app will include restaurants, cafes and a number of different choices in your search, although it does not describe the precise location of the toilet. The app simply specifies where a toilet may be located, using a drop pin on the map.
Self-Washing Toilets (Sanisettes): Paris has over 400 Sanisettes or self-washing toilets placed strategically around the city. In previous years these were known known as public pay toilets. Since 2006 however, Paris Council has made all of these free to the public. Since 2009 the Council began removing the old pay toilets and replacing them with the new designs, which come with many luxury cons when fully operational.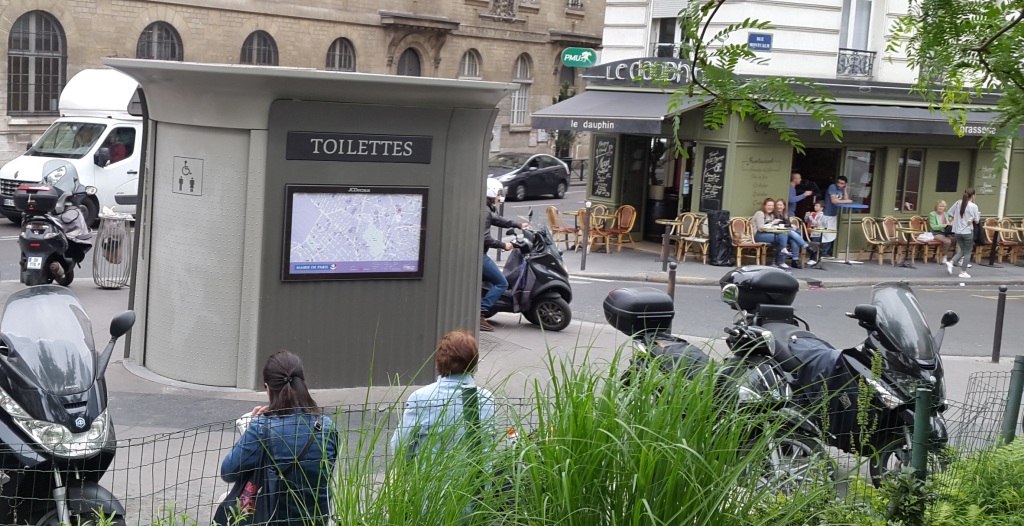 According the city of Paris the new sanisettes are supposed to look like a tree trunk, and to include the following attributes;
The use of renewable energy
Disinfection and automatic cleaning after use
Wheel chair accessibility
Emergency fire opening, extinguisher and lighting
Multilingual directions
Heating in winter
Automatic Doors
Automatic unlock after 20minutes
Hangers
Mirror
Drinking fountain
Background music
Fragrance spray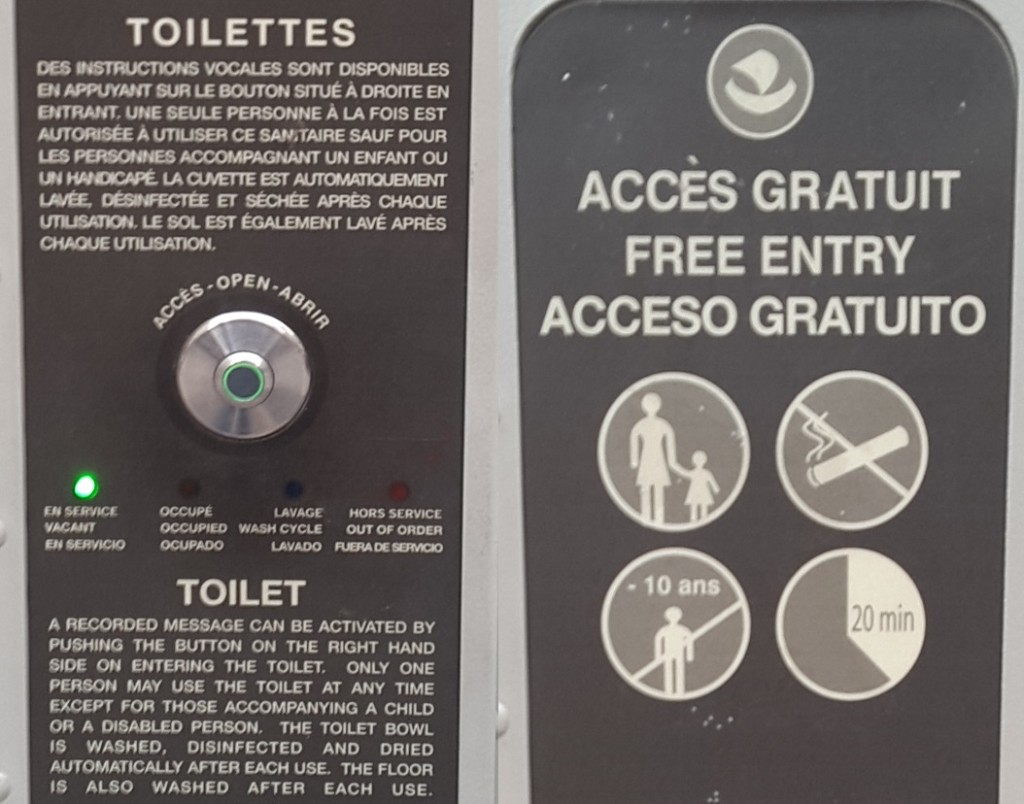 If you are interested in seeing a Paris self-cleaning toilet and it's insides then here is a video which might interest you.
Note: Sanisettes will often be out of service after 10pm and before 6am. Threy are a technical piece of machinery which can often be out of order. It is recommended that children under ten years of age be accompanied by an adult when in use. (reports have been made that these toilets may initiate the cleaning cycle while smaller children are inside.)
Fast Food Toilets: For many visitors to Paris finding a toilet in places such as KFC and McDonalds should be a sure thing. While there is usually a toilet in these fast food restaurants, nine out of ten times you will need to have a receipt from your purchase to use them. Either you will have to show the security guard standing at the door, or find the code on your receipt and enter it into a touchpad for access.
Cafes and Restaurants: Generally speaking, most places that serve food or drinks such as cafés and restaurants will have a toilet. It is typically polite and expected that you buy a drink or something cheap from the bar. With this said many travellers can and will simply stroll in of the street posing as a customer, not making eye contact and their restrooms. You can usually find them at the back of the restaurant or downstairs in a dark tiny dungeon like area.
Monuments and Shopping Malls: You can almost certainly find free toilets around or within popular monuments and shopping malls in Paris. Malls such as Galeries Lafayette, Printemps, So Ouest or the underground shopping mall at the Louvre are the perfect place to locate a free W.C.
Hopefully this information will help prevent the call of nature from causing unnecessary anxiety and interrupting your day in Paris too much.