So you have come to Paris on holiday or perhaps you live in Paris and are looking for something different to do in the area without having to travel too far. My wife works 6 days a week, so the only places we could travel most of the time are places that involved a day trip from home. I have kicked off a Paris day trip list which will show showcase some of the places we have been to, but will also show some of the places we intend going.
Let's start with what we think are the top ten day trips, and this will lead to completing the others on the list as we experience them. The day trips that we will cover do not necessarily involve culture or history, although both are almost impossible to avoid in France, but are more based around entertainment and/or adrenalin, and could be a good shake up for something different to the normal everyday experience.
These are not rated in order however the anticipated top 10 have been listed first.
Parc Xtrem Adventures and Base De Loisirs De Cergy

The adventure starts with on this list of day trips from Paris France with a combined family and extreme sports-orientated activity park just outside of Paris which you have probably not heard about until now.
Parks Parc Xtrem Adventures and Base De Loisirs De Cergy are side by side and are accessed from the same entry gate. There are so many things to do at these parks that I could easily spend two days here, but you might not be interested in all the activities that interest me. Still, activities range from cable wake-boarding, to flow rider surfing, to sky bungie and swimming at the beach.
Axe Majeur: While you are in Cergy you could check out the amazing architecture and really nice walk of Axe Majeur during a break. This attraction was created specifically to provide energy and bring life to the town and to give the locals a nice place to relax, hold festivals or simply to take a stroll.
You may notice that the first few Paris day trips are located just outside of Paris in the town of Cergy. To get to Cergy you can take a number of different RER trains and it will take you about 40 minutes from Gare Du Nord. Once you arrive it is then a 5 – 10 minute bus ride from the train station to both parks.
Parc de Thoiry Zoo
When you plan a day trip from Paris to Parc de Thoiry Zoo you will notice that there are some really unique experiences at this zoo. For starters you can take your own car and do a drive tour of the 60 hectare reserve. You will be surrounded by herds of wild animals and are free to explore at your own pace.
You can visit the zoological and historic gardens where it is possible to get up close to animals such as a snow leopard, lynx or cheetah. Pass under glass tunnels and over bridges to get a risk-free up-close encounter.
Don't overlook the amazing maze, beautiful gardens and historical castles at Parc de Thoiry either. Our personal favourite is the maze but that's probably just the inner child as we love to check out a maze whenever we get a chance.

Provins
The town of Provins, France is located South East of Paris and is a little over an hour by train. Provins is as close as one can come to medieval times. You can still find large fortified walls around the city and medieval stone towers such as Caesar's Tower. The town features a piece of history normally only reserved for Hollywood movies or museums.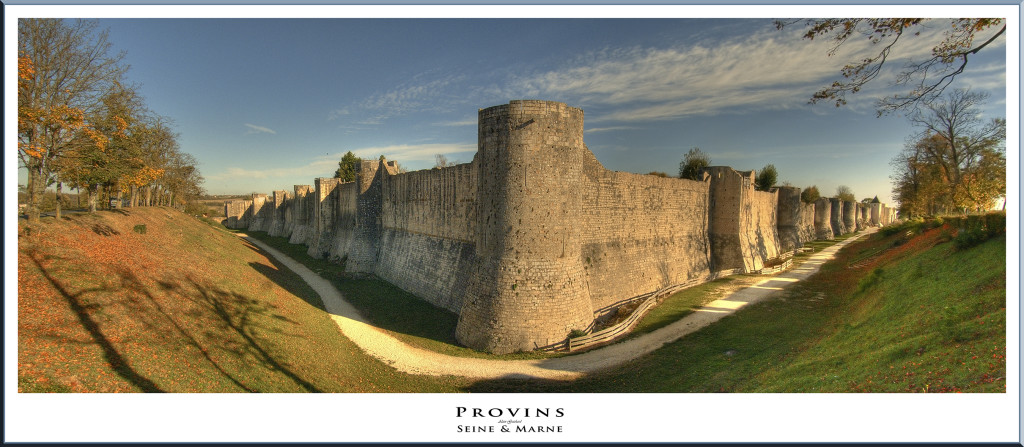 When you arrive you will find the tourist information centre on Rue Saint-Jean where there is loads of information including a map which shows some good walking routes.
While you are there why not check out a medieval show or Les Aigles Des Remparts? It features trained eagles, owls, camels and more.
Some other popular things to do in Provins are a guided tour of the underground tunnels, the Saint-Jean's Gate and the Provins Museum. It would be quite easy to plan a day trip to Provins from Paris without having to look for accommodation in the town. See our Day Trip Form Paris To Provins…
Deauville – Trouville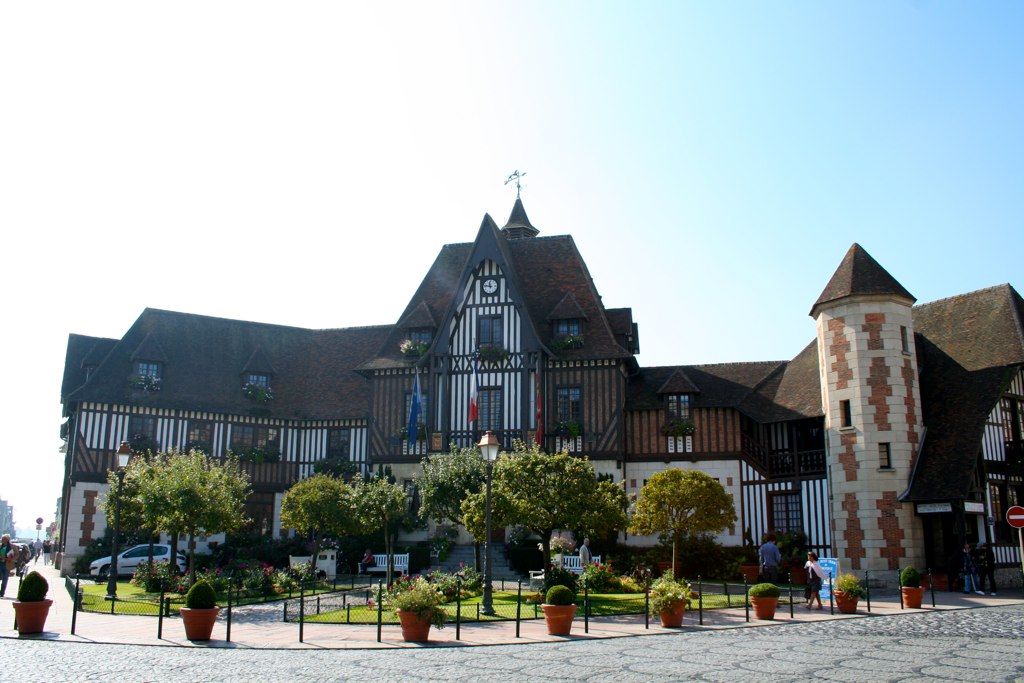 Deauville is located on the west coast of Paris and is approximately a two hour train ride. Once you arrive you can either walk, taxi or catch a bus into town. Walking is doable however it does take a bit of time.
When you arrive at the train station you can either choose to visit Deauville or Trouville. These two are neighbouring towns and are very close to each other. They are also very similar in style, activities and all around feel.
Megan and I took a trip to Deauville in July and had an amazing time. As a couple who has spent most of our lives on the beach it was great to be able to escape from Paris city living for a day tip to the beach.
In both towns there are number of amazing restaurants, great boutique shopping, a golf course, bowling, a casino and of course you can just lay on the beach and sunbake. Unfortunately when we tried to go into the casino they informed us that our driver's licenses were not acceptable as proof of age and only our passports would grant us access. See our Day Trip From Paris to Deauville…
Giverny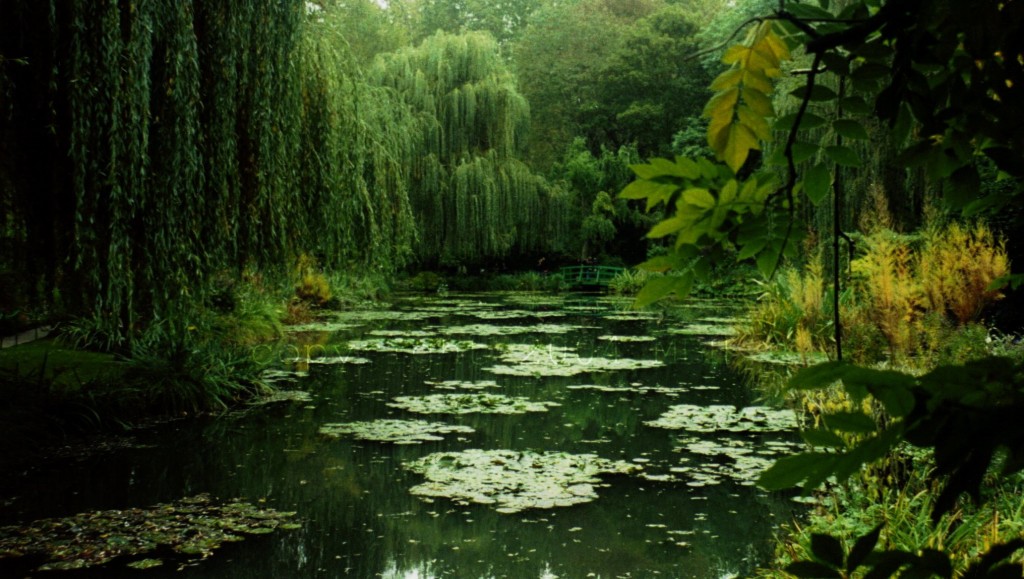 Giverny is located North West of Paris and is approximately forty five minutes by train. The main reason to travel to Giverny would be to visit Monet's House and Gardens. It took Monet more than a decade to create the gardens which he would later immortalize in his paintings.
The other main activities that people like to do when in Giverny is walk, eat and take photos. Within the town you can find some great spots for amateur and professional photographers as well as grab some great food at Fondation Claude Monet or Restaurant Baudy.
Fontainebleau

To get to Fontainebleau from Paris it is only a 40 minute train ride and is located just a little south of Paris.
There are two main attractions in Fontainebleau which will take up most of your day trip and possibly you will only be able to accomplish one of them in a day. These attractions are the Chateau de Fontainebleau and the Fontainebleau Forest.
I personally think if you have been to Versailles and liked the Palace of Versailles then you will like the Chateau de Fontainebleau. You may also think that if you have seen one large grand historical palace then you have seen them all. The two are very similar however I would say that the Palace of Versailles would probably be the preferred destination for most people WHY?.
The Fontainebleau Forest however is great for those looking the escape the hustle and bustle of Paris. The Fontainebleau Forest is one of the biggest in France and stretches more than 49,000 Acres. Some great ways to explore this forest is by horseback, bike, hiking or rock-climbing.
You may also be interested to know that during the summer months it is possible to try your hand at water skiing or just sunbake and swim along the sandy beach at Base de Loisir, Fontainebleau.
Mont Saint Michel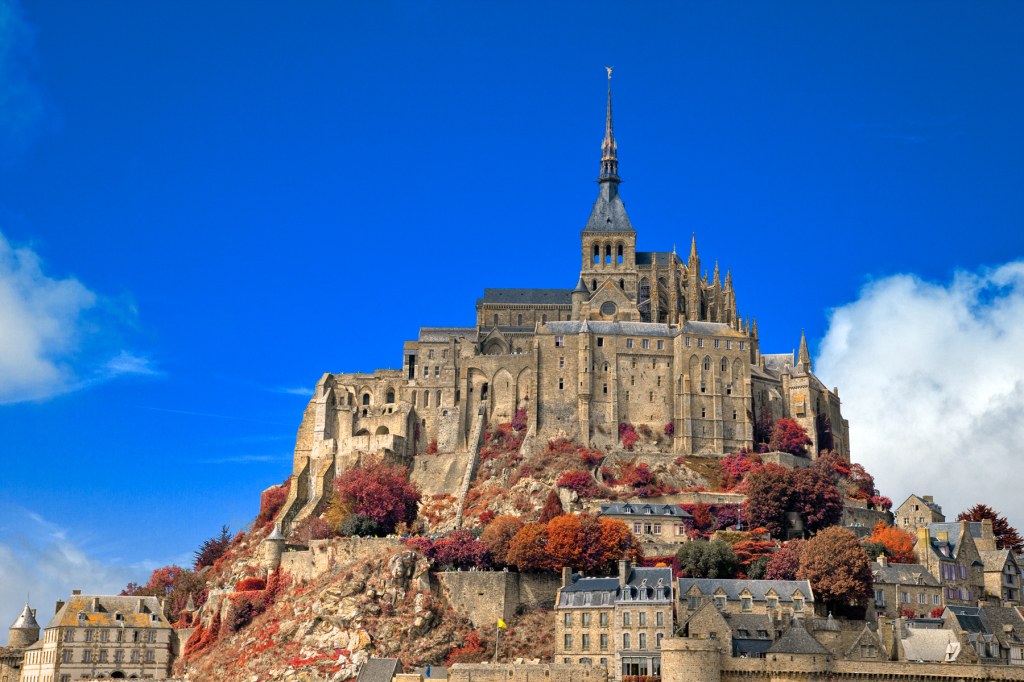 A Mont Saint Michel day trip from Paris will take you approximately two and a half to three hours get there. It is located on the far east of Paris along the French coastline. In order to get there you will need to catch a train to Caen, Granville, Rennes or Dol de Bretagne, then a coach or shuttle which takes about twenty to thirty minutes. This may seem a bit long, however it is actually faster than driving by car.
Mont Saint Michel is a true French historical marvel. The small island community displays history dating back to the Roman era in the early 400's. Used by the Romans as a stronghold, you will hear stories of Archangels and a French revolutionary prison. It will not disappoint anyone with even just a slight interest in history.
While you are there, some of the most popular areas to visit are La Grande Rue, Tour du Nord, Terrasse de L'Ouest and Tour Gabriel.
Versailles

About an hour's train ride south east of Paris you will find the Town of Versailles. This is one of the most popular day tips from Paris in which travellers partake.
Usually the sole focus for travellers when visiting the town of Versailles is to see the Palace of Versailles and the grounds surrounding it. When entering the palace you will be given an audio guide which you can listen to. This is an important part of the experience but a number of times I found myself saying "who cares" and moving on.
There is also a little café in the grounds where you can grab a bite to eat. Our favourite part of the trip is Queen's Hamlet which was built for Marie Antoinette as an escape from Palace life. I think that it may be a good idea for some to see Giverney and Versailles in the one day trip, or maybe grab a tour which includes the two towns.
Lille
Lille is located close to the Belgium and France boarder to the north of Paris. A high speed train from Paris will get you there in approximately an hour.
When arriving in Lille you will want to head over to the two very popular and stunning squares in the centre of town le grand place and Le Place du Théâtre. If you are fond of finding great old French souvenirs then you should head over to La Vielle Bourse, here you can find a number of vintage products such as maps, prints, coins, books and postcards.
Vieux Lille is the older section of the city and is what would picture a small village in France looking like, scattered with narrow cobblestone streets and quaint little shops. The area also features a number of quality Belgian beers which may interest some travellers.
Of course there is no shortage of cathedrals, monuments and old buildings featuring grand French architecture, if you like this type of thing.
Rouen
Rouen is located to the North West of Paris and it takes approximately one and a half hours by train.
Known for its charm and small cobble stone streets lined with colourful little apartments it also feature the Rouen Cathedral of which Monet famously painted more than 30 canvases. You can get some great picture and views of the city from the "gros horloge" clock tower.
The best time to visit Rouen would be during the third week of October during its annual two day Rouen Food Festival located at Place du Vieux Marché and the rue Rollon. The festival features local producers and popular chefs wearing traditional Normandy clothing while serving up some of the region's most popular foods.
So That Was Our
Top Ten Day Tips From Paris
I think if you had a car you might even be able to see more than one in a day if you plan it right. I always recommend finding a local tour guide to show you the best parts in a few hours, then revisit the places you wanted to see more of. Keep an eye on this post for more day trips added as we complete them.
Amiens
Amiens is directly North of Paris, and it will take anywhere from two to three hours to travel there by train.
The city of Amiens hosts a few popular attractions such as the tallest cathedral in France. The Amiens cathedral is 113 meters high and very much resembles the Notre Dame cathedral in Paris due to its French Gothic Architecture.
Also on the tourist hotspot list when visiting Amiens, is the Jules Verne Mansion and the Floating Gardens. The French novelest, Poet and playwright and his wife spent much of their lives in this mansion. The Floating Gardens are best visited during the spring and summer months. They are a manmade set of canals which feature different types of gardens and can be a great place to take a stroll.