Here you will find a list of the top 10 attractions in Paris. I have ordered them in top 5 and best 10 formations. However are not set in a numbered order as I feel I could not fairly order them from best to worst sights in Paris.
This is because each attraction will resonate differently with each individual or couple once they have visited the attraction. So please read on and feel free to leave a comment as to what are your favorit spots of Paris France.
Eiffel Tower
The Eiffel Tower is probably the most iconic piece of history in all of France. It is number 1 on the list for places to visit in Paris and is a tourism hotspot. It is for this reason that lines can be huge and there can be wait times for up to 2 hours so you need to choose your times and days carefully. It is my favorite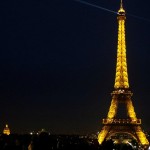 sport to have a summer picnic but I always make sure we are there close to sunset on the hour so my wife and I can see the tower light up before we head home. If you only have a day or two I suggest not climbing it and simply viewing it from the ground at night or day because there is a lot to cover in Paris and the lines can take up a lot of valuable sightseeing time.
Sacre Coeur Basilica
Most commonly known as the Sacre Coeur it is situated high up on the mountain in the suburb of Montmartre. The Sacre Coeur has over 10 million visitors per year and is the second most visited monument in all of Paris. On a sunny day its bright white colour really shines high up on the hill and is a sight not to be missed. Once you enter the basilica you will suddenly be stuck by an abundance of quite calmness. You can also pay one euro to buy a candle and light it for a loved one who has passed on if you wish. On the outside of the basilica many people like to take a seat on the stairs and look out at the city of Paris and on some occasions you can sit and watch the street performers when they are in the area.
Arc De Triumph
The Arc De Triumph is also one of the city's most famous and most visited land marks. It is situated at the end of the Champs De Elysees and is in the middle of one of the busiest roundabouts in the world. In order to visit the Arc De Triumph you must walk under the Arc de Triumph roundabout and come up on the other side. Do not try to cross this road above ground, I have seen a guy in a wheel chair trying to get across this road and all the traffic stopped for him thankfully, it was very nerve racking. Once there you can take photos on the ground or climb it for a small fee and see a 360 view of Paris. In my opinion this is actually my favorite view of the city as you can see every side of Paris which branches out like a giant star fish.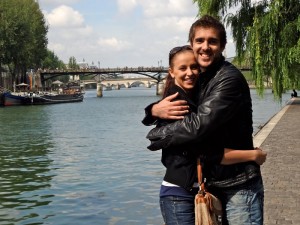 The Seine River
Paris has relied on the Seine River for hundreds of years even up until today. It is an amazing place to have a picnic in Paris if you choose the right spot. A lot of Paris sightseeing attractions can be seen along the seine river which is why it is one of the best places in the world to take a river cruise. My wife and I went on a river cruise which had a glass top, fine dining and band. It was one of the most romantic things we have done together and just when you think it can't get any better the lights of the Eiffel Tower came on which help make it the perfect night. This river is also crossed by more than thirty gorgeous bridges, one of which is the newly famous Paris lock bridge.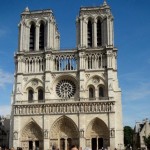 Notre Dame Cathedral
One of the things to do in Paris when you are on a budget is to visit places that don't charge entry such as the Notre Dame Cathedral. You can pay to climb it but the Eiffel Tower and the Arc De Triumph have much more spectacular views than this. So I suggest just use the free entry and see inside this amazing tourist attraction. The line can be long at times but it always moves very fast. At max you would only wait about 20 minutes to get inside. Don't forget to get some close up picture of the famous gargoyles on the side of the buildings.
So that was my top 5 attractions in Paris however I did not put them in any particular order as I find it near impossible to choose between these French tourism icons. However i will say if you only have time to see 5 places in Paris then these are one you will regret if you miss them.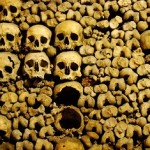 Catacombs of Paris
Deep below the beautiful city of Paris is a vast network of tunnels and many of them date back to the Roman age. There are many sections of the catacombs which are hard to get access to but a number of local Parisians know their secret entry points. The Paris Catacombs are your chance to get access to the underside of Paris. When you enter the catacombs you will find a large number of human skulls and bones which have been piled in specific arrangements to be presented to the public. To walk the entire catacomb attraction it will take approximately 40mins to an hour and along the way you will see the bones of millions of permanent Parisians.
Paris Opera
The Paris Opera has been home to some of the most famous ballets and performances ever created. It's also very well known for the legendary phantom of the opera myth and musical. Here you can get some great snapshots for the photo album. The shimmer gold monument and amazing achetecture looks amazing on a sunny day. You may want to take advantage of the guided tours that the Paris opera house offer. Your eyes will be opened to just how much culture and history this monument has.
The Louvre Museum
The Louvre Museum is most famous for the architecture of its one large pyramid and three surrounding smaller pyramids in the middle of the complex. However in the surrounding palace is one of the most impressive museums not only in all of Europe but also the world. It hosts a number of different sections and something for all history or art lovers. There are many paintings such as the Mona Lisa or Venus De Milo and historic pieces from different moments in time such as the Renaissance, Medieval, Egyptian and many more. If you want to see the entire exhibit then it will take a full day and I suggest using the pre recording which is offered at the door where tickets are sold.
The Champs Elysees
The Champs Elysees is most commonly known for its amazing shopping and has many great stores such as the Disney shop, Louis Vuitton and Swarovski just to name a few. Along with shopping it also features a great night life, amazing restaurants, first class night clubs, shows such as the Lido and Crazy horse plus at Christmas time the street turns into an amazing winter market place. At one end of the street you will find the Arc de Tiumph and at the other and you will find Place de
Concord. You could take a full day out if you wish to cover it all.  Starting at one end and walk to another soaking in the streets charm or take a rickshaw from Place de Concord and only walk half the way before you start you shopping.
Palace De Versailles
In order to see the Palace De Versailles you will need to take a train out of the main city of Paris and travel for about half an hour in order to reach the palace. This is a full day activity in order to see the entire grounds as well as inside the palace. It was originally built by Louis the 13th and expanded upon by Louis the 14th to the grand palace you see today, it was here that Marie Antoine also lived. At the time it was built it used to be a small country village where the king would go hunting but today is a one of the richer areas of Paris.
So that was my top ten attractions in Paris list however with all the things to do in the city of lights I have decided to not stop there. Over time I will be updating this list and adding more below. Weather its cheap, free or you have to pay for it I will keep listing the things that I feel you can miss when you are sightseeing in this beautiful city.