I have compiled a list of 17 ways in which you could scammed or taken advantage of by Gypsies, Thieves or beggars in Paris. If you are aware of these prior to visiting Paris then it could go a long way to having a more enjoyable stay.
I have compiled a list of 17 ways in which you could scammed or taken advantage of by Gypsies, Thieves or beggars in Paris. If you are aware of these prior to visiting Paris then it could go a long way to having a more enjoyable stay.
Roving Picnic Children
This is something that happened to my wife and I while we were picnicking, and I have also seen this happen on one other occasion.
We were enjoying a picnic in Bois de Boulogne, not paying much attention and having a nice relaxing day. We saw 3 children who were no older than 11 years of age, walking up to various people and showing them a piece of torn newspaper. They positioned the newspaper right up close to each unsuspecting victim's face to create a distraction so that they didn't notice that their valuables were being stolen.
Foolishly, even though we saw it happening even before they got to us, we had left my wife's new iPhone lying on the picnic blanket. By the time the children reached us, one boy started speaking aggressively in a foreign language (not French) and kneeled down on our picnic blanket. He was obviously targeting the iPhone. His hand was just centimeters from the phone when I grabbed it, stood up and feeling mad as hell I told him aggressively to leave which may or may not have involved a few curse words. The children then started spitting and yelling at me, but eventually left. My job in Australia is working with challenging children, but these guys were a whole other level of challenging.
Tip: It's not just adults or teens who will steal from you. You need to be aware that it can be children as well sometimes.
Tip: When you are having a picnic in Paris or just relaxing, never completely drop your guard. Often you are being watched to catch you at a moment when you are not paying attention. Do not leave valuables in the open for others to see them.
Tip: If you are approached while sitting down in a vulnerable position you should probably stand up and if asked something, anything, just firmly say "NO!". 'No' is a Universal word and they will get the picture immediately.
Flower Men
50% of the time these guys are not scamming you, and are simply waiting outside shows, events or romantic locations in Paris. I would stand outside the Moulin Rouge waiting to pick up my wife every night, and the same guy would ask me every night if I would like to buy a flower.
How this can become a scam is when a shady flower man gives a flower to a girl and says "flower for a pretty lady". He will then ask another person and then come back to you asking for 5 Euro, the cost of the rose. They will chase you down as you are walking away, demanding their money. If you try and give the flower back, they will often refuse to take it but continue to demand their money. Don't get caught out; things in Paris are rarely free.
Tip: If you wish to impress your date then by all means buy her a flower. Women love flowers, and it will certainly put a smile on her face.
Tip: If a man hands you a flower, it will not be free!
Woven String or Braided Bracelet
I have only ever seen this scam worked at the base of the Sacré-Coeur, as you walk up the stairs. Here you will find at least 2, sometimes 4 or 5 dark-skinned men blocking off each entrance to the stairs as you walk up them.
As you walk past they engage you and persist in asking you to participate in what they are doing. You may be asked to put out your finger or expose your wrist, and they will proceed to plait a piece of cotton around your wrist or finger. Once finished, the ornament will be tied off and they will then ask you for money. If you refuse, they then become angry and then instigate Plan B.
Plan B of the Scam is that while you are arguing with them, 1 or 2 other dark men approach you and start manhandling you. This is the point where your phone or wallet is stolen, or you give in and give them a few dollars just to allow you to leave safely.
This is one of the more aggressive scams in Paris, and you really need to be on the lookout. I can't say whether this scam is worked in other places as well as the Sacré-Coeur, however these scammers are there every day without fail, and occasionally they are chased away by police.
Note: I have heard of the Roma scammers performing this in Montmartre as well, but I have never seen it. This is a news article which tells a story of the Paris police commissioner being assaulted by a group of these scammers.
Watch as the female tourist get surrounded by bracelet scammers
Tip: Say "No" and keep walking, if you ignore them for long enough they will stop following you. If you say "No" as if you know what they are doing, they will most often move on the next unsuspecting victim. They can't make victims of everyone.
Tip: Be extremely aware if you are being engaged by two men at the same time.
Tip: It's easy to go around the long way and to walk up the side stairs to the Sacré-Coeur, however I prefer to not to allow them a victory, and just walk straight through their group. They may also approach you while you are taking pictures at the bottom of the stairs.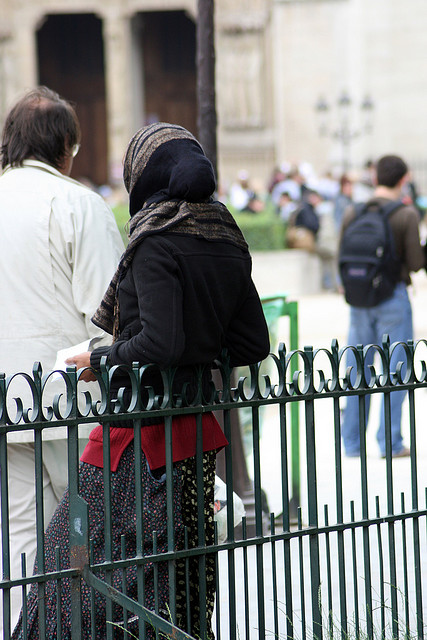 "Do You Speak English?" Scam
This is a quite passive way for a Gypsy or Roma woman to make some money from tourists. You will be approached by a young woman and asked "Do you speak English?" If you co-operate and say "Yes", they will either share a rehearsed storyline, which will be an attempt to tug at your heart strings, and at the end ask you for money. More commonly they will hand you a piece of paper which has the sob story written on it.
I have seen this worked at many places; the Eiffel Tower, Sacré-Coeur, Arc de Triomphe and the Champs Elysees just to name a few. The reason I say it is passive is because you do not usually feel pressured or intimidated and if you are aware, it's easy to just say "No" aggressively.
Tip: This an easy one; don't ever say "Yes". They don't need directions or assistance of any kind, and there is only one thing on their mind, and that's to get your money.
Charity Signature Campaign
I have seen groups of Roma teenagers as well as dark adult men performing this scam. I am sure this is worked in more places, but I have seen it in the Latin Quarter and at Montmartre.
This Paris scam involves being asked to sign a petition for the starving people in Africa. The scammers will often claim to be working with a specific charity, however they are in plain clothes and show no identification whatsoever.
If you do sign the partition they will then ask you how much you wish to donate to them. If you tell them that you don't wish to donate, they then say "But you have signed. You have to pay" or something along those lines. If you give them money and 'donate', you can almost be assured that not a cent will go towards the charity that is being named.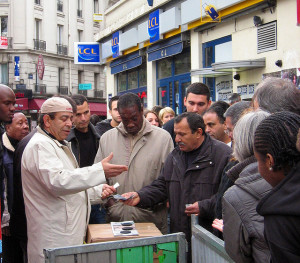 Sleight-of-Hand Gambling
This is a scam in Paris where there is a man with a cardboard box and three round rubber discs. Under these rubber discs will be one white spot, and you are asked to pick the disc which has the spot under it. My wife's family and I sat at a café in Paris and watched these guys performing this scam over and over again taking everyone's money. You will not win at this game.
The scammer is very practiced at hiding the white spot, yet even if you are about to choose the right one you will be prevented from doing so by his team mates. That's right! The dealer has one or two other scammers working with him pretending to be players, and who run interference to stop you winning.
When there is no one gambling they act as lucky winners that just keep winning all time. When you are playing the game they will swoop and take your disk if you are about to win, and claim that they have won.
I have seen this in Montmartre only, but I have been told by friends that they have seen it worked elsewhere.
Tip: Keep you money and buy a beer or a coffee, you will never beat the scammer otherwise they would not continue to work the scam.
Tip: Find a good seat and check out the theatrics of his inside men. This is quite entertaining to watch.
The Gold Ring Scam
This is an oldie but a goodie. If you have ever been to Europe then you have probably heard or seen this scam. This is worked almost anywhere in Paris and is usually performed by a gypsy/Roma Woman.
The woman will pick up a gold ring in delight and say something like "Oh my luck day!" and then proceed to ask if you dropped it or if it is yours. You will probably say "No", and then she will just give it to you. In return she will ask for a few dollars in exchange for her kindness, a finder fee.
This ring is not gold nor does it have any monetary value at all, and honestly I have never seen anyone give them money. I have no idea how they make money on this scam but I guess as the saying goes "There is one born every minute".
Skip to 1m40sec to see this lady perform her scam

Homeless Citizens
I would not call this a scam, but there appears to be dishonesty involved. I would also like to start by saying that I have given loose change to some homeless people on occasion. This is an all too familiar sight in Paris and you will often see them with dogs and cats. I have even seen two cats lying on a dog.
The reason why I thought it needed to be mentioned is that I a lot of the times these guys work in shifts. I always walked the same route every day, and along the way there is a beggar who has a sign which says words something like "I am sick with a certain disease and need money for medication". I have seen the man change from day to day but still have the same sign and sit in the same spot. I have also seen a man with dogs and cats rotate from day to day.
This is not to say that they don't need the money but just be aware that it's not all black and white. In fact on another occasion a lady used to ask me for money every night when I walked Megan home from work. Then a couple of weeks later we saw her buying beer after beer at the local Irish pub.
Street Sellers or Vendors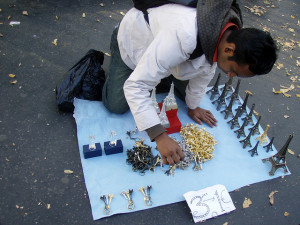 The street sellers in Paris often walk around populated areas such as the Eiffel tower selling little drinks, handbags, trinkets and replica Eiffel tower key rings. Megan and I laugh when they all pack up their goods and start running when someone spots a police officer. These sellers or vendors will first lay a sheet on the ground and place their merchandise on top in a way which means they will be able to make a quick getaway if necessary. These people roam the area with large key chains full of Eiffel tower trinkets, or sell cheap water and/or beer on a hot day.
Yes it's true that you can barter them down and get three key rings for a dollar, but technically it is illegal for you to buy from them however I have never heard of anyone being charged. If you are wondering why it is illegal for them to sell and why they always run away when the police are near, it might be because;
These street sellers do not have a vendor's license which means they do not pay tax and this in turn affects the economy, and as well it takes genuine income away from the legitimate souvenir sellers.
Some of the time these guys are running because they are not only trading illegally but are in fact illegal immigrants.
My boss once told that there is also a copywrite issue involved when producing and selling Eiffel tower replicas, and that this is a very good reason why they run. All the trinkets these guys offer are imported from china and sold to these venders illegally.
If you are interested you can read about the 60 tons of miniature Eiffel towers that were seized in Paris.
This is an interesting video about the day as a street seller in Paris

Tip: If you are going to buy from street vendors, which I don't recommend, then understand that they should settle for less than the original price they gave you. If not, then move on to the next street seller.
Metro Busker
This is not so much a scam, but something to be aware of. These people are trying to get your money illegally, in the eyes of the French government. I you want to busk in Paris then you need to apply for a permit and you have to specify times and places where you will perform.
I think for the rare tourist the metro busker can be quite appealing and some may enjoy them. But having lived in Paris for a while whenever I see them get onto the train I instantly cringe. The most common 'entertainer' is an accordion player, but I have seen others with Karaoke machines, guitars, ukuleles, and even a guy throwing a sheet over the rail for a puppet show. Some are quite good but a lot of them are very bad and have obviously only learned 2 or three tunes.
Metro Buskers usually stay for one song and 2 or three train stops. When they are finished they will ask people for money. You will then see them leave the train and get back on to the next carriage where they perform the same routine.
Tip: These guys are harmless and if you don't wish to give money you can just politely say 'No'.
Tip: If you see a man or lady get on the train with no instrument and start yelling at the whole train then this is not a busker. For the most part these people are either yelling their religious or political views, mentally ill or both.
Gypsy Beggars
You will commonly see the Roma Gypsy beggars on the Champs Elysees, usually on their knees face down with a sign placed in front of them, or maybe just a collection hat or plate. While they are not aggressive will not bother you while you go about sightseeing or passing through, they definitely fit into the beggars list for this post.
RER Beggars
This type of beggar is mostly only seen when you ride a TGV or RER to somewhere outside of Paris. We have twice encountered this since living in Paris. The first time a man was walking through our carriage handing out a business card which had printed on it that he lost his job and has a wife and kids etc. He either placed it on the spare seats or handed it directly to passengers. In our case he handed it to us. Once he had handed them all out, he came back to collect his card and also to collect money from anyone who would give him some.
The second experience we had was very similar except this time it was a young teenage girl and a boy who would have been no older than 10 years of age. They also handed out similar cards which stated "My brother and I are homeless and have no food tonight…"
It is worth noting that in both of these cases the cards were not hand-written but printed, and so they had gone into some effort and expense and probably had thousands of them. I cannot comment or speculate on whether their stories were true or not, however these people and their behaviour definitely entitles them to make it on this list. My thoughts are, give money at your own discretion, but I have not seen any threatening behaviour with this form of begging.
Thieves
Metro Pick Pockets
For the three years I have lived in Paris I have seen people pickpocketed 3 or 4 times, and each time it has happened the victim has been a tourist. The act was always committed just as the train doors closed, so the victim did not have time to realise that it had even happened before it was too late. The thief was always a young male of varying age, and they were always very quick. Whenever you are riding a metro you do need to pay close attention to your luggage and know where your valuable belongings are.
Tip: A small backpack or your handbag sitting at your feet is like taking candy from a baby for a pick pocket.
Tip: A wallet in your back pocket is another target that you have painted on yourself. If you have a zip pocket at all, this would be your best bet to preserve your wallet and everything in it.
Tip: If you can prevent it, try not to pull your wallet out and expose it while you are on the metro as it could be an easy snatch or show the pickpocket where you keep it.
Tip: Be aware of the situation and protect your belongings, especially when the doors of the train are open.
Clumsy Jogger
The clumsy jogger has a target, usually a tourist with quite a bit of luggage. The jogger pretends to stumble into the tourist, apologizes and helps the tourist back onto their feet. In the meantime an accomplice is in the process of stealing their luggage while the tourist is distracted, or the runner takes off with some of the luggage while the distraction is taking place. I have only ready about this method of thievery but never seen it, so unfortunately I can't offer much advice. My guess is that once you become a target it is likely that you are going to lose something, so my tip is to keep your most valuable possessions on your body, and travel light.
Street Muggings
Since living in Paris I know of three people who have been robbed while walking the street and yet the areas they were in did not have a bad reputation for muggings. On one occasion the lady, a friend of ours, was walking into her building at night after work and a robber followed her in the apartment complex and robbed her at knifepoint. This would be a frightening experience for anyone aside from the fact that that the robber spoke French and the victim did not.
The other occasion was when another friend was about 10 meters away from walking through a door to start basketball training with our team. He was texting on his iPhone and was approached by three teenaged male thieves.   One said "Give me your phone and we won't hurt you." He replied "No", so they then punched him and kicked him until he gave up the phone. A short time later, a bit bruised and shaken, he was practicing with the team!
Tip: Be aware of your surroundings and the people around you. Make sure you are not being followed, and if you think you are step into the nearest hotel or shop. My wife and I have been followed home a few times, but fortunately managed to avoid any ambush by taking this action.
ATM Distraction
This actually happened to a friend of mine but I have since realized that it is more common than I first thought. Apparently it is a common thing for adolescents and teens to distract the person who is drawing money out of an ATM while someone snatches the money from the other side. It only takes a split moment, causing you to look in another direction from a distraction and some quick hands can take your money.
Tip: There are a lot of banks in Paris where you can walk into a security camera room in order to use an ATM and withdraw money. If you are in a run-down area, or there are shady-looking people around avoid using ATMs located along the sidewalk.
Sleeping Thief
This is also something I have read about and seen on the news, but this type of thief pretends to be asleep on a nearby bench or table and waits some to unsuspecting tourists to sit down for lunch. Paris picnic areas and tables are places where people relax, eat lunch, rest their feet after lots of sightseeing and walking, and all they are thinking about is taking a break, getting some rest, or planning what to do next. Someone sleeping nearby hardly appears to be a threat, but this is the perfect situation for a 'sleeping' purse snatcher to assess their prey.
My Two Cents
Paris is such an easy place to scam and steal from people that you can be sure that you will see it at some point in your stay, but hopefully you will not be the victim. Please don't let the thieves or scammers, who are no more than criminals, spoil your trip. One of the most common items stolen from people is their passport. If your passport is stolen you can be sure that the rest of your trip will be very stressful, running around trying to sort out how you are going to be able to get home, making police reports and waiting at the Consulate.
Paris is a beautiful city and the goal for your stay is to have an amazing time. My advice is to take note of all the different Paris Scams, Gypsy's and Thieves listed above and be aware so you don't get caught out being careless. I can tell you from experience, and I have been required to do this a number of times, the best way to avoid this behaviour being aimed at you is not to engage in any kind of eye contact and to avoid any verbal interaction other than the word NO!!!