Do you only have one day in Paris? If so you can't miss this advice from some of the top travel bloggers in the world!
I have asked 30 travel bloggers whom are listed in the top 150 of the best travel bloggers online a simple question.
If you only had one day in Paris How would you spend it?
As a long time blogger and traveler it has always been really beneficial for me to ask others travelers within online forums about things to do or itineraries for my next destination. It is for this reason that I decided the best way to plan a one day in Paris itinerary is to hear from some of the best minds in the Travel Industry.
Note: When you plan a trip to Paris we have an entire section to help you get the most out of Paris. For Details Start Here…
Things To Consider When Planning One Day in Paris
Time is of the essence however don't let this take you away from stopping and soaking it all in! I would defiantly recommend a plan which is documented or written down however make sure you leave an extra 15-30 minutes more than you originally thought to just stop and look around to prevent spoiling the experience and feeling like you in a rush.
A guided tour or hop on hop off bus can be a great idea to help see more of Paris in a short time but don't let this take up your whole day. There is more to Paris than just looking at monuments and tourist attractions.
This may not be for everyone but for most people I feel that it's important to cover a few fundamentals to creating a good experience for any new traveler to Paris. You may not be able to cover them all nor may you be interested in covering them all however it's a good exercise to see just what you want out the you trip.
Attractions – You're most likely going to want to see the main monuments and attractions in Paris, so try to make a plan which incorporates the other fundamentals into these monuments or make a good plan of attack which will get through them swiftly but not sacrifice your ideal experience.
Entertainment – If you have time see a show such as the Moulin Rouge, Lido or Crazy Horse. Maybe even a dinner cruise with a live band.
Romance – If your situation enables it, try to find some romance in this short time.
Culture – you will encounter a lot of culture but make sure you don't let it pass you buy when you in oar of the monument and attractions. A great place to find some is the Latin Quarter or Montmartre.
Food – You have three meals in your one day itinerary so at least use one of them to grab some amazing french traditional food.
Out of the Box – Maybe find an experience that is a little out of the box or different which could be a memorable experience. Possible the catacombs, a beautiful French cemetery and macaroon cooking classes just to name a few.
With all that said let's check out advice from the experts…
How These Travel Bloggers Would Spend
One Day In Paris!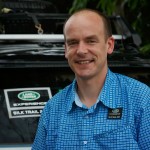 "Since most of my trips tend to be with family, I'd be looking to do something that keeps the children entertained as well as us, but I'm pleased to say that wouldn't mean a trip to Euro Disney. Instead, we'd perhaps start the day with a leisurely breakfast in a Parisian café, possibly sneaking in a pain au chocolate if nobody's looking.
We've done the likes of the Eiffel Tower and the Louvre before, so would probably opt instead for something like the Cité des Sciences to fuel our boys' enthusiasm for science. We'd follow that with a light lunch and perhaps a browse of an open air food market or stretch our legs in one of the city's many parks.
Maybe even sneak a little 'choux' shopping before returning to our hotel. To really spoil ourselves, we'd finish the day with dinner at L'Atelier de Joel Robuchon and an evening cruise on the Seine."

"I always tell people if you only have 1 day in a city, and it is your first time in a city, to just get on the hop-on, hop-off bus and go hit all the highlights. In Paris that would be the Eiffel Tower, the Arc de Triumph and Notre Dame. Maybe a short visit to one of the museums as well.
If you get all the stereotypical stops taken care of your first day, your next trip you can spend more time exploring the city and not feel like you have to hit the big attractions. "

"I enjoy Paris the most when walking the streets, just admiring the view and stopping for a bite to eat wherever you find yourself.
My very first day abroad was in Paris and I walked for hours and just couldn't get enough of it. So I'd recommend walking from Notre Dame all the way to the Eiffel Tower for a great overview of the big ticket attractions the city has to offer.
For those that like it a little quieter then head to Montmartre and enjoy the view from the steps of the famous Sacre Coeur. Then head off into the streets to seek out Moulin Rouge and stop into watch the painters at Place du Tertre.?

"I was just in Paris recently, so this is an easy one!
If I had one day in Paris, I would start down by the Eiffel Tower, early in a bid to avoid the crowds, and get to the top for a great view of Paris. I'd then walk across the river to the Trocadero and get a different perspective on the Iron Lady, before wending my way along the Seine, possibly with a detour for the Arc de Triomphe, before dropping in at the Louvre.
To end the day, I'd head up to Montmartre for the best views of the sunset! All the classics, in one easy day of adventure."

Start at the top of the Champs-Élysées and see the Arc de Triomphe. The line is never long, and you'll get sweeping views of the city. Walk down the Champ-Élysées through the Jardin des Tuileries. Stop and admire the exterior of the Louvre before continuing down Rue de Rivoli and crossing into the oldest part of the city. Visit the beautiful gothic church, Notre-Dame (get there early to avoid the lines to climb the bell tower). Follow that with visit the underground Roman ruins next door and then Saint-Chapelle Church, one of the oldest churches in the city (and my favorite).
Head south towards the Latin Quarter. While area is pretty touristy, if you get off the main drag you'll find yourself in a labyrinth of alleys and café-lined squares far away from the local tourist hangouts. It's a good way to get lost in a beautiful part of Paris and just explore. Visit the nearby Panthéon before heading west towards the Jardin du Luxembourg, where you can relax and watch Parisian life go by. There is amazing people watching here.
After your break, head north to see Saint-Sulpice. If you're into The Da Vinci Code, look for the familiar symbols and hidden meanings throughout this church. Then walk west and visit the Eiffel Tower.

"The answer to this question echoes what we did in Paris a few years ago that we highlighted at our website. I think Megan was surprised at how much we did in one weekend!
If we only had one day in Paris we would try and walk as much as we could to see both the big sites, as well as the neighbourhoods. We would start with the St. Germain neighbourhood and walk until we reached Île de la Cité and Notre Dame Cathedral. Then we'd continue to the Institut du Monde Arabe (Arab World Institute) to get a birdseye view of the city.
If you haven't been to the Louvre, I would suggest going there next to first enjoy the Tuileries Gardens and then spend a couple of hours in the museum — be selective of what you want to see so you don't get overwhelmed.
Then hop back on the metro and go to Barbes Rochechouart stop and walk the back streets to Sacre Coeur in Montmartre. Enjoy the sunset over the city. Then, finish off your night in Le Marais with drinks and dinner. "

"As a travel photographer, I'd spend my day in Paris shooting as many photos as I possibly could.  I'd wake up while the city still slept and wait near the Louvre for the dawn light to hit.  Then, I'd slide over one of the bridges nearby and shoot the morning light lifting over the city.
Midday, I'd find a market, a park, or maybe hike up the steps to the Sacred Heart Cathedral and just people watch for a little while.  Then, when the evening light started to bake the city, I'd find a nice spot near the Eiffel Tower to photograph the building and the scene in front of it.
As darkness hits, I'd wander back down the Champs d'Elysse, grab a glass of the cheapest vine on the menu, and call it a day."

"Rather than just one day in Paris, I'd like to have one night in Paris. To wander the Latin Quarter, to duck into little alleyways, stroll along the Seine, see the Eiffel Tower at night. Besides the obvious romance of Paris, I'd like to explore the trendy clubs and little bars in Paris.
Parisians have always seemed so beautiful to me (maybe because of their great fashion and physique), so I imagine they're just as beautiful on a nightclub dance floor!"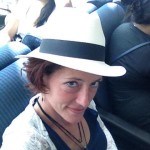 "I've been to Paris a few times, and it's hard to envision only having one day to explore this most excellent city!
With only one day to explore, I would make a river cruise along the Seine an absolute priority. You cover a lot of territory, and the scenery is fantastic. If you go at night you can see the spectacular light show of the Eiffel Tower.
I would also walk the street market along rue Mouffetard to experience a slice of local life and the wonderful foods that define this magical city."

"Interestingly enough, if I only had one day in Paris, I would do scooter tour of all the most beautiful areas of Paris.
Drink wine throughout the day in the outdoor cafes while people watching and finishing off the day with a picnic beneath the Eiffel Tower.
This would be my ideal way to spend my time in Paris. I think I would do this if I had a week, and maybe add in a dinner cruise on the Seine."

"Start the day with cafe au lait and croissants; wander around Montmartre in the morning, making sure to buy some cheese; lunch at Chartier, afternoon at the Louvre, dinner at l'Atelier."

"My day in Paris would start with a stroll on the Seine River banks, lazily flipping through old books and prints.
Then I would cross Pont de l'Archeveche to Notre Dame, and pique into others people's love lives on the way by taking photos of all the love locks hanging heavily from the bridge. Paris is so romantic!
There are some nice cafés serving delicious crepés next to Notre Dame, and I would make a point out of trying them out.
Next I would stop by Rodin Museum. This is my favorite small museum in the French capital. The atmosphere is just so relaxed and elegant here!
I would spend the rest of the afternoon on Champs de Mars, nibbling on Pierre Hermé macaroons, or French cheese, or both. And I would wash everything down with Champagne. Nothing compares with a Paris picnic by Eiffel Tower."
Eventually, I would end the day at Moulin Rouge, watching French cancan in a dazzling setting, and go to sleep fully away and day dream of Paris the whole night.
"I guess I would try to get up on a high place to have a great view over the city and get some great shots of the Eiffel Tower. Besides that, I would just get lost in the streets and hopefully find some inexpensive restaurants."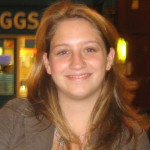 "Although I've never been to Paris, I know exactly what I would do on my dream day (aside from eating many, many croissants). I'm a huge book nerd so I would definitely spend some time browsing Shakespeare and Co.
I would also love to visit Pere Lachaise and photograph the beautiful tombstones. It's a little macabre but I would also love to visit the Paris Catacombs. Then I would relax with a dry-aged steak and a glass of French wine. Perfection!"

"I advise every traveller to get lost! This does not mean that you don't need to come unprepared. Do get the info you need from blogs, Twitter and other travel sites. Then when you arrive start walking! Have a map with you, online or offline and from time to time check where you are and what direction you are interested to head. Then start walking that direction without going 100% for the map's route.
You will see that you will find the main sights like that as well, but the more you walk, the more other things you will explore and find. This could be shops, parks, people, but as well sights which you might not have added on your list. Take good walking shoes and enjoy little breaks in cafes or parks! If you see something of interest at the next corner, walk there instead focusing on your final destination."

"If I only had one day in Paris, I would likely spend it in Montmartre. It may be a little touristy, but I love the artsy feel of this neighbourhood. I'd start out by climbing the steps up to the Basilica du Sacré Cœur for a nice overview of the city.
From there I'd wander the little cobbled streets to watch painters at work and to pick up a few souvenirs. There would also be a mandatory stop at a little cafe for a cup of café au lait and a sweet treat in the form of pain au chocolat. And the rest of the afternoon would be spent visiting some of the smaller art galleries in the area."

"I would grab a croissant for breakfast and spend the morning in one of the art museums. My favourites are the Musée D'Orsay and L'Orangerie. I would have lunch at a cafe and take some time to watch the world go by. In the afternoon I would go up the Eiffel Tower or visit Notre Dame. In the late afternoon I would go up to Montmartre and stroll around, catching dinner at some cafe with views of the lights of the city."
"Paris is one of those cities that has so many things going on that it would take a lifetime to see/live/experience them all. You can easily get caught up running around trying to explore other people's recommendations, but for me, I would rather let spontaneity and adventure rue the day.
Paris has a very navigable metro system that covers almost the entire city, as such, I would say pick one day a sort of 'Choose your Own Adventure' day – grab a day pass on the metro and just get off at random stops.
Let fate pick your destiny for the day. Get out, explore new neighbourhoods, sit down at cafes, adventure down random allies. Do you know how guide books were first created? People going off and exploring the world on their own – so instead of reading the adventure or living someone else's, make your own."

"My favourite way to explore Paris is to eat and drink French. La Fee Verte (The Green Fairy) is a bistro and absinthe bar just off Voltaire metro station near the Bastille, where as well as tasting more than ten types of absinthe in the traditional Parisian way — sugar lumps and all – you can find good, reasonably priced French food in authentic 1920s, art-deco surroundings."

"Paris always reminds me of my mom – it was always her favorite city, she event spent a few days there the week before she passed away.
So, if I had a day in Paris, I'd spend it at her favorite places.  A couple of hours wandering Musée d'Orsay. Sipping coffee and enjoying a mont blanc at Angelina's bakery.
Walking along the Seine exploring the art for sale, then admiring that new piece of art while sitting for a spell in the gardens. Then I'd spend the rest of the afternoon just walking through the avenues and neighborhoods.
Many of the things that make Paris a cliche also make it a great place to be – the cobblestone streets, the fashionable people, the adorable cafes and proliferation of good wine, bread, and cheese.    Take it slow and enjoy it – feel it."

"If I only had one day in Paris, I would skip the Eiffel Tower – anybody can see that! Instead, I would wander the back streets, seeing how Parisians live.
I would hang out at a coffee shop, drinking café au lait and eating pain au chocolat. Strike up a conversation with a couple of locals and learn about their lives. And one final thing – I would insist on carrying a baguette with me all day long. That's the way the French do it, no?"

"One day in Paris would begin with a freshly baked croissant at Du Pain et Des Idées, then heading over to Notre Dame Cathedral to attend an unforgettable morning mass. It is a truly powerful experience, even though I am not overly religious and don't speak an ounce of French.
Next on the itinerary would be popping into a street side bistro for a prix fixe lunch, Jeanne B in Montmartre would do nicely. This must be followed by a unique flavoured and crunchy macaroon at Pierre Hermé. My macaroon choice would possibly be a Truffle Blanche & Noisette, white truffle and hazelnut or the Grand Format Mogador with milk chocolate & passionfruit.
After lunch, I would head over to the spooky Catacombs to walk through the eerie labyrinth of remains in this ossuary.
Dinner would absolutely have to be at Frenchie restaurant or at the very least their wine bar. Following dinner I'd make my way towards the Eiffel Tower where I could spend the rest of the evening watching as its lights sparkle up the night."

"First, let me say that Paris is one of my favorite cities in the world, and spending only one day there would be an absolute sin – but, if I had only one day I'd begin early in the morning with a visit to the fresh market on the Rue des Martyrs.
After filling up on fresh fruit and artisan cheese, followed by a leisurely stop for pastries at one of the boulangeries that line the street, I'd hop on a bateaux mouches (boat) to see the City of Light from the Seine. I'd then head for the Saint-Germain-des-Prés neighborhood for a late lunch of crepes, followed by stops at several of the chocolatiers who make their home in this historic Left Bank neighborhood.
After dark, I'd do a walking tour from Saint-Germain to the Arc de Triomphe, by reversing the direction of the route I outlined (with map) in a post on my website."

"I loved my time in Paris! I spent time in France with a friend who I met on cruise ships (I worked on board for seven years!)
If I only had one day in Paris, I would be sad because there is so much to do! I would return to Versailles and I would eat crepes! I would stroll along the river and drink hot chocolate and plan for more time in Paris!"

"What to do in Paris if you have one day depends greatly how well you know the city. If it's your first time, it's natural that you'll want to see the city's icons: the Tour Eiffel, the Louvre, and L'Arch de Triomphe.
If you've already done that, then make sure to see Versailles and Mont Matre.
If you've checked off all the major tourist spots (or you hate tourist spots), then lose yourself along the Canal Saint-Martin Neighborhood or the Rue Montorgueil."

"If we only had one day in Paris I'd say we would forego trying to take in everything, there is just way too much, so we would simply absorb as much of the feel as we could.
Stroll along the river, explore some out of the way back streets, and try to find a neighborhood cafe away from the tourist areas. A little bread, a little wine, some interesting dishes with lots of incredibly rich sauce… what's not to love?"

"Since my site focuses on the quirky and offbeat side of travel, I'd have to recommend seeing some of the more curious attractions Paris has to offer.  The Museum of Vampires and Imaginary Monsters for the weird, the Catacombs of Paris for the spooky, and the Museum of Magic for the wonder are a few can't miss sites in my opinion. "

"I have a few suggestions depending on the season/weather. These aren't full-day itineraries, but rather, personal suggestions of one or two things to mix into a full day.
Winter: a stroll along Blvd Haussmann near Printemps to view the Christmas displays
Spring: walking through city parks Jardin du Luxembourg and Le Jardin des Tuileries to enjoy the new, green foliage
Summer: an evening picnic enjoying the sunset on the banks of the Seine just east of Notre Dame Cathedral on the left (south) bank for the best angle
Fall: drinks sitting on the edge of Canal St. Martin near Pont Dieu (Cork & Cavan offers beers on tap for takeaway)"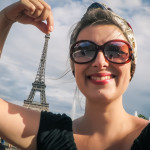 I would start my day with breakfast in the famous Café de la Paix (Yes, it's expensive, but totally worth it to get this "uh, I'm sitting on a table where Marlene Dietrich was sitting too-feeling"), then I would go for a walk from Le Louvre to the Eiffel tower and make fun of the other tourists taking funny selfie picture (just to end up taking a selfie myself).
In the afternoon I will try to get lost around Rue des Martyr and have a coffee or two in one of many cafés in this area. For sunset I would go to Sacré-Cœur (and have a chat with the lovely peanut sellers there). And I would end the day in a bar at Canal St Martin (and watch the cute waiters).
"My daughter, Kalyra, is dying to go to Paris so I asked her what she would like to do. She would love to see some fashion shows and visit the Eiffel Tower. After climbing the tower, I would definitely spend awhile enjoying a picnic in the grounds underneath.
I know Kalyra would love the Champs Elysee, and I would love to see her face watching the traffic chaos at the Arch De Triomphe roundabout. I'd also take her to walk around Sacre Cour, one of my favourite places in Paris to wander. A boat ride along the Seine would be a fantastic way to finish the day."
Before I had my little boy, if I had one day in Paris I would probably spend the majority of it at The Louvre. During my last visit, I spent the better part of a day there and still only saw a small fraction of the works on display.
But now that I travel with a toddler I would probably spend my time seeking out quieter, greener places. Maybe a day trip to Versaille where he can run around outside until he is exhausted, and once he falls asleep in the pram Mom and Dad can sneak inside the palace for a quick look.
OH MY GOD!
I would really like to thank all of the bloggers who participated to this huge Paris Journey project. I know for sure that this will benefit readers for a long time to come.
Whether you're coming from London or somewhere else in France these experts have supplied us with a lot of things to see and do if you are only in Paris for a short time. When it comes down to it there are a lot of places to visit and you won't cover them all in one day. So be sure to plan well and ask yourself what exactly do you want to gain out of a trip to Paris.
Have an amazing trip and please check out some of the great info on the websites of the participating bloggers above!