Paris can be a very expensive city but there are a few ways that you can save money on your visit. Many visitors to Paris choose an all in one pass such as the Paris Pass, Paris Visite travel card or the Paris museum pass. However it is important to realize that these passes are not for everyone.
So I am going to try and help you with deciding if the Paris Pass is worth the money for you circumstances. If you have any question please just leave us a comment and we will try and help.
There are 4 main pairs discount pass cards that we will speak off.
Paris Pass – Included in this pass is a public transport pass, entry to many museums, access to a number of Paris monuments and a few extra activities. (Official Website Here)
Save Money When Purchasing By Using Our Paris Pass Discount Code
Paris Visite travel card – This card can be used on buses, metro and trams and is great for saving money on travel. This pass may be specific to certain zones so make sure this will suite your travel before you purchase.
Paris Museum Pass –You will gain access to almost all major museums including the Louvre and more than enough to satisfy you for your stay in Paris.
Paris Combo Pass – This pass has a light and a premium version and simply offers some different combinations than options 1,2 and 3 above. I recommend taking a look at it as it has a lot of flexibility and options you can opt in and out of.
Is the Paris Pass worth it?
So let's start with exactly what the Paris Pass offers.
Fast Track Entry – So one of the things that the Paris pass boast is fast track entry to skip the lines. Please note that the fast track entry only applies to Louvre Museum, Musee d'Orsay, Centre Pompidou and the Grevin Wax Museum. If you choose the right times to visit the long line monument then you will skip the lines anyway.
Entry to over 60 Attraction – there is a good list of what you will see at the parispass.com website but I will list some of the main attraction below. Take note that the Eiffel tower and Paris catacombs are not included in the package. The wine tasting and Seine river cruise are two of my favourite inclusions.
Paris Bus Tour – This will take up at least a half a day and you can get on and off an unlimited amount of times during that day. This is my favourite thing to do whenever I visit a new city where the bus tour is available. Defiantly a great inclusion for the pass.
Paris Visite Travel Card – The majority of you time will be spent going from monument to attraction and can be worth wild however you can also think about a 10 ticket travel pack if you think you might walk more than take public transport. We will discuss this in further details below.
Special offers – These inclusion are things like small discounts at places such as Hard Rock Cafe, Fat Tire Bike & Segway Tours and more. This may save you some money if you like the look of some activities.
120+ Page GuideBook – This is a good read and will help you find your way around Paris.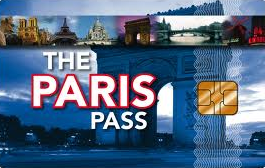 Tip: It is recommended that if you do decide to choose one of the Paris discount pass options then do not get it for the entirety of your stay. Once you activate the card you will officially be on the clock and it's not worth rushing around Paris from attraction to attraction trying to get your money's worth. You should spend some time in just walking around and soaking in the beauty. So if you are there for 4 days I recommend the 2 day pass and not the 4 day pass. Once the pass is activated you will need to use it in consecutive days.
What attractions are included in the Paris Pass?
Here is a list of just 12 of the most popularly used attractions or monuments available with the discount pass. There is defiantly more available with the pass but these are the most popular if you want a full list see here for details.  However I can't stress enough if you would like to get your value for money you should do at least 6 of the main attractions bellow. You can defiantly do more if you wish as well.
1. Paris Bus Tour
2. French Wine Tasting
3. Palace of Versailles
4. Seine River Cruise
5. Louvre Museum
6. Grevin Wax Museum
7. Notre Dame Cathedral
8. Dali Exhibition
9. Centre Pompidou
10. Montparnasse Tower
11. Paris Opera House
12. Paris Story
Buy The Paris Pass Discount Card Here >>>
Is The Paris Visite Travel card Worth It?
Before you read on please not that you can buy the Paris Visite Travel Pass when you arrive in Paris alternatively it is included in the Paris Pass Package or the Paris Combo Pass which is listed above. Below we will analyze weather it is worth it to buy the Paris Visite Travel Pass by itself without being combined with the Paris Pass or the Paris Combo Pass.
There are two different Paris Visite Travel Passes you can choose from. Because the Paris metro system is split up into different Zones from 1 to 5 then you should make sure you have the correct one. 1-5 is mainly if you are planning on going places such as Palace de Versailles or Disneyland Paris as well as the inner city of Paris. However the most popular Visite Travel Pass is the 1-3 zone choice. This gives you access to the inner city transport services of Paris.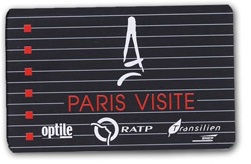 If you purchase each ticket as you go which I don't recommend because not all metro stop have ticket machines the you will pay each 1,70Euro Per ticket.
If you buy a 10 Ticket Carnet full of tickets it will cost you 13,70Euro which = 1,37Euro per ticket.
So if you take that information into account you will see here that in order to get as much the value from the 1 day Paris Visite Travel Pass the you will need to make at least 8 trips in the day weather its bus or train.
In order to get the most value from the 5 day pass then you will have to make at least 25 trips in the 5 days which works out just over 5 trips per day in order get your money's worth from the travel pass.
1 day Ticket is 10,85Euro = 7.9 Trips in this day
5 day Ticket is 34.70Euro = 25.3 Trips in a space of 5 days
As mentioned in previous articles a lot of the attractions in Paris are closely grouped and can be walked with no further need for public transport. So in order to really figure out whether this pass is worth the money you need to look at your itinerary and figure out approximately how much travel you will be doing.
I can defiantly see people with mobility issues getting the most advantages out of this type of pass. However there are those that will simply want it for convenience. Just being able to swipe and go onto each metro or bus is quite handy.
Conclusion: If you were given this as a part of discount card package it could defiantly be a great added bonus. On the flip side if purchased singularly I found it was hard to get my money's worth and would more likely recommend buying a Carnet of 10 tickets when you arrive so you can use them on any day of your stay in Paris.
Is The Paris Museum Pass Worth It?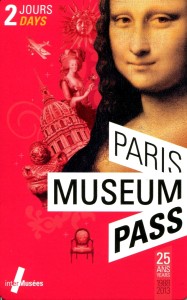 In my opinion the Paris museum pass has the most value out of all the cards and if you don't wish to get any other card then you should simply choose this one. This is of course that you have the want to visit the attractions on the list. So let's find out why this is the best sightseeing pass for Paris.
As for all of these passes you need to know your itinerary and time management in order to compare the prices that I have listed below.
2 Day Pass – 42Euro
4 Day Pass – 56Euro
6 Day Pass – 69Euro
If you compare it with a number of the most popular attractions and museums that are available with this pass below it will be easy to see the savings. The total cost of the monuments that are listed below comes to 103euro and its worth noting that there are a number of other smaller attractions or museums that are included as well.
Arch De triomphe – 9.5euro
Tour de Notre Dame – 8.5euro
Musee Du Louvre – 12euro
Pantheon – 8.5euro
Chateau De Versailles – 18euro
Musee D'Orsay – 9euro
Saint Chapelle 8.5euro
Centre Pompidou – 13euro
Musee Du Quai branly – 8.5euro
Musee Rodin – 7eruo
Example Itinerary: lest say you only bought the 2 day pass for 42euro and only visited 3 museums which were Musee Du Louvre (12euro), Chateau De Versailles (18euro) and the Centre Pompidou (13euro). The total of these three museums adds up to 42euro which means you would break even. However it also means that you will skip all of the lines which is a big bonus. It is very possible that you will see more than 3 attractions in this time.
Getting The Most From Your Paris Museum Pass
1. It is not always a good deal for children to have the Paris Museum Pass as they will usually get a cheaper entry anyway.
2. It's important to make sure that you are in the correct line when you arrive at each attraction as I have seen people wait for a long time in the wrong line when they actually have a Museum pass. If you are unsure don't be afraid to ask someone even a security guard will have an idea where you should be.
3. Places like the Louvre which can be quite large don't have to be completed within one day in Paris. Since your pass is unlimited for the duration of the pass then you can return again later which will help break up the larger attractions. Also take notice that some attractions can be viewed at night time so take advantage of the time on the card but not seeing these attractions during the day.
4. There are 3 main attractions on the list that will have not only a ticketing line but also a security screening line. These attractions are Sainte-Chapelle, Notre-Dame tower and Versailles. If your want to skip the security line as well you should get there in the mourning close to opening time.
5. Be sure to read the documentation and tips that come with the pass. This will give you the best times to go and other helpful tips. However you also need to plan your trip a little because the smaller museums will vary there hours a lot and will also be shut some days of the week.
Conclusion: If you plan your itinerary and take a look at the attractions available then you will most defiantly save money with the Paris Museum Pass.