Megan and I have tried our fair share of crepes since living in Paris and we think we have found where get the best crepes in Paris. At one point we were having 3 to 4 crepes per week from this particular crepe store because they were so good.
The video below illustrates our favorite crepier (Mr Smiley) creating two perfect crepes which tasted as good as they looked. The video has been sped up for obvious reasons however take note of how much care, precision and cheese that Mr Smiley puts into each step of the process.
I should also point out that I think Mr Smiley makes the best crepes in Paris and only works during the day. The night shift person who also works at this particular crepe shop does make a decent crepe however Mr Smiley's are better.
If you are wondering why we call him "Mr Smiley", it is because every time we see him he is always smiling, friendly and happily greets every customer. As we have discovered this can be a rare thing when dealing within the customer service industry of Paris.
Tip: If you are looking to buy a street crepe in Paris and you see a pile of crepes which are already cooked then chances are the crêpier is simply going to reheat them. For obvious reasons they are never as good.
Tip: If you are buying a chocolate crepe then make sure that they are using Nutella chocolate. 90% of the time they will use Nutella, however sometimes dark liquid chocolate is used which is very rich and also not as good.
Tip: We have also purchased crepes at restaurants and even a dinner cruise on the Seine River for desert but some reason the fresh street crepes are always better.
The best crepes in Paris are located at the creperie on the corner of Rue Lepic and Boulevard de Clichy, 10meters east of the Moulin Rouge.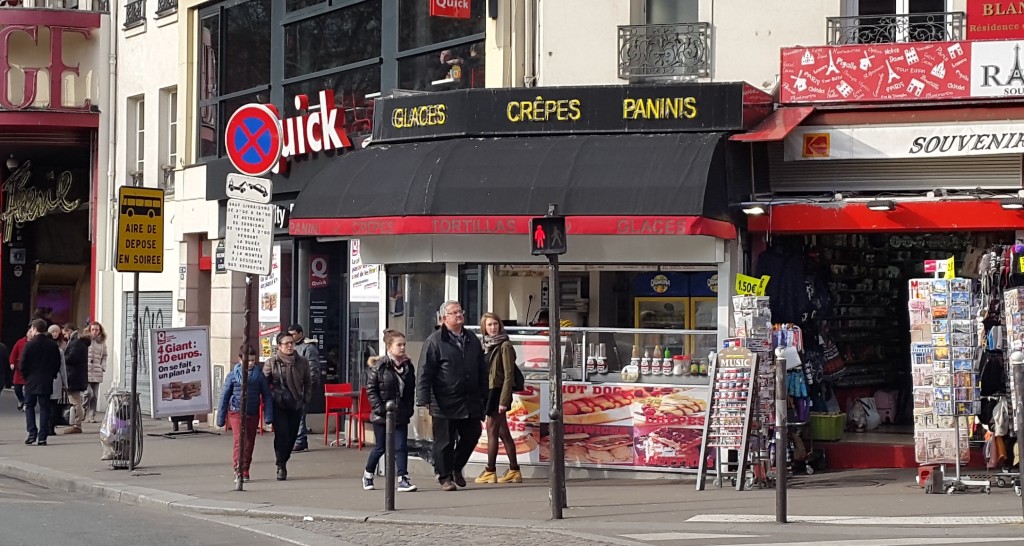 Megan's choice of crepe is always sugar and cinnamon and I will usually choose either a banana and Nutella or cheese and ham. The price of a sugar and cinnamon crepe is 2,50Euro and the price of a cheese and ham crepe is 4,50Euro. So not only do they taste amazing but they are also reasonably priced as well.